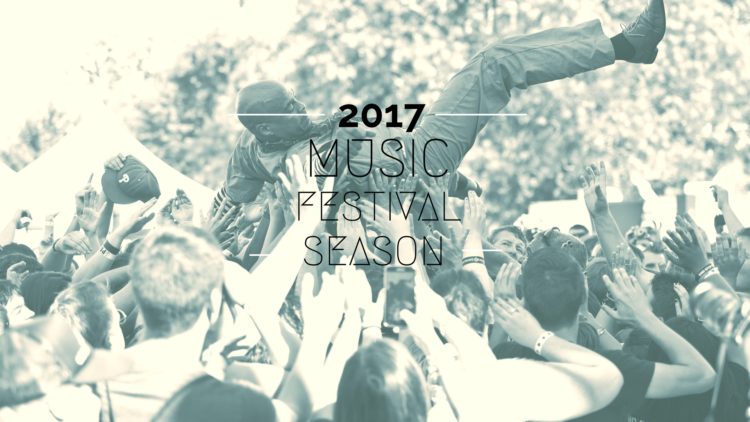 Below is your 2017 list of music festivals for D.C., Maryland, and Northern Virginia, and a few that are definitely worth the road trip. Check back for updates daily as dates and lineups continue to be finalized. Looking forward to another great music festival season!
Other Lists: Maryland Food & Beverage Festivals | DC Food & Beverage Festivals | N. Virginia Wine Festivals | Annual Festivals | Concert Venues
Updated on 07/06/2017
February
Date: February 17th & 18th
Location: Baltimore, MD Multiple Venues
Lineup: Dru Hill, The Pietasters, Joe Pug, Bumpin Uglies, PASADENA, Dean Crawford Dunns River, Richie Fields, Lovebettie, Bond & Bentley, The Grilled Lincolns, Oogee Wawa, Stacked Like Pancakes, Sweet Leda, J and the 9s, Joey Harkum Band, Megosh, Higher Education, Edjacated Phools, Indyca, Brittany Fields, Medusa's Disco, Wise Eyes, THE CORNERSTONE, Brahctopus, REGGIE CHILDS, Moonlicious, The Slow Surrender, Mend The Hollow, Yeah Son!, Frank Viele, Magic Wax, Doomsday Mavericks, The Streams, Old Eastern, Lion's Den, Treazon, Fire In Elysium, ZFL, Gingerwolf, Mark Bray, Brody Kean, Chris Diller, Mike Heuer, Supper Break String Band, Never Ending Fall (NEF), Oceanstone, Special Reserve, Survival Of The Sickest, Kavoossi Music, Loose Ties, Stefan Heuer, Palm Trees In Moscow, The Vibesmen, Troll Tribe, Michael Kocher, Red Valley Nursery, Jettison, Thrillkiller, Last to Fire, Breakforth, Clockbreaker, The Kraken BAND, Stratus Fear, Kan Of Worms, Will Sims, Stone Brew, Joint Operation, Ronnie Wayne & Tidewater Band, Jared Shane, Semi Supervillains, FIVES, Sweatshop Window
Website: frozenharbor.com
Facebook: Frozen Harbor | Twitter: @frozenharbor
March
DC Bluegrass Festival
Date: March 10 & 11, 2017.
Location: Sheraton Tysons Hotel, Tysons Corner, VA
Lineup: Steep Canyon Rangers, Love Canon, Frank Solivan & Dirty Kitchen, Band of Ruhks, Flatt Lonesome, Valarie Smith & Liberty Pike, & Charm City Junction
Website: dcbluegrassfest.org/
Facebook: DC Bluegrass Union | Twitter: @dcbu
ShamrockFest 2017
Date: March 11, 2017
Location: RFK Stadium
Lineup: Dropkick Murphys, House of Pain, Coolio, Carbon Leaf, Street Dogs, Go Go Gadjet, The Fighting Jamesons, The Narrowbakcs, The Interrupters, Blood or whiskey, Jeff From Accounting, The Muckers, Bastard Bearded Irishmen, The Gobshites, Gaelic Mishap, DJ 2Nutz, Pat Premier, Rene, Clinton Matthews, Chris Styles, DJ Ri5e, DJ Bobby Hash, EPX, DJ Josh, DJ Big C, DJ Octane
Website: shamrockfest.com
Facebook: ShamrockFest | Twitter: @shamrockfest
April
M3 Rock Festival
Date: April 28 & 29, 2017
Location: Merriweather Post Pavilion, Columbia, MD
April 28, 2017 Lineup: Kix, Loverboy, Winger, Faster Pussycat, Dangerous Toys, Baton Rouge, Station, and Lita Ford
April 29 2017 Lineup: Ratt featuring Percy, DeMartini, Croucier, Cinderell's Tom Keifer, Dokken, Warrant, Jack Russell's Great White, Xixen, Loudness, Danger Danger, Autograph, Rhino Bucket, Junkyard, Bang Tango, Vain, Mitch Malloy
Website: m3rockfest.com
Facebook: facebook.com/M3RockFest | Twitter: @M3RockFestival
Charm City Folk and Bluegrass Festival
Date: April 29, 2017
Location: Druid Hill Park, Baltimore, MD
Lineup: The Lone Bellow, Cabinet, Cris Jacobs, Dustbowl Revival, Lonesome River Band, Horseshoes & Hand Grenades, Valerie Smith & Libery Pike, and More TBA.
Website: charmcitybluegrass.com
Facebook: facebook.com/CharmCityBluegrass | Twitter: @CCbluegrassfest
May
Broccoli City Festival
Date: May 6, 2017
Location: Gateway DC
Lineup: Rae Sremmurd, Solange, 21 Savage, AlundaGeorge, Lil Yacthy, Rapsody, Kevin The Abstract, Smino, Chaz French, Nick Grant, Rejjie Snow, Sir The Baptist
Website: bcfestival.com
Facebook: Broccoli City | Twitter: @BroccoliCity
Kingman Island Bluegrass & Folk Festival
Date: May 13, 2017
Location: Kingman Island, Washington, DC
Line-up: Town Mountain, Dom Flemons, Frank Solivan & Dirty Kitchen, The Woodshedders, Walter Martin, Nora Jane Struthers & The Party Line, The War & Treat, The Honey Dewdrops, Charm City Junction with Ken Kolodner, By & By, The Sligo Creek Stompers, Run Come See, Mountain Ride, After Jack, Justin Trawick & the Common Good, Adrian & Meredith, Luray, Ladybird, Vim & Vigor, Man About a Horse, Blue Plains, The Coteries, Elena Lacayo, Julie Outrage, Rich Daniels, The Sunrise Review, Snakehead Run, Moose Jaw, King Street Bluegrass, Split String Soup, Two Ton Twig, Ampersand String Band with Jonny Grave, AJ Head, Crys Matthews, Gina Sobel, Sarah Quintana
Website: kingmanislandbluegrass.info
Facebook: facebook.com/KIBluegrassFest | Twitter: @KIBluegrassFest
Circa Blue Fest
Date: May 12 – 14, 2017
Location: Fair Grounds-harry D. Shelley Park, Martinsburg WV (ROAD TRIP!)
Lineup: Seldom Scene, Frank Solivan and Dirty Kitchen, Jim Hurst Trio, Circa Blue, Chris Jones and The Night Drivers, Johnny Staats and the Delivery Boys & More to Come!
Website: circabluefest.com
Facebook: facebook.com/CircaBlueFest | Twitter: @CircaBlueFest
Funk Parade
Date: May 6, 2017
Location: U Street, Washington, DC
Lineup: Backyard Band, Sinkane, Sun Ra Arkestra, Nag Champa, Champion Sounds, Mokoomba, Dior Ashley Brown & the dAb Band, Clones of Funk, Julie Outrage, Aztec Sun, UCB, Reesa Renee, Amayo's Fu-Arkist-Ra & Members of Antibalas, Aaron Abernathy, Clones of Funk with Michael Kidd Funkadelic Hampton, Mokoomba, Carolyn Malachi, Fort Knox 5 & Quop | Mary El Elikeh, Batala Washington, Boomscat, Footwerk, Wes Felton, Edy Blu, Dupont Brass, Empresarious, Gump, Names, Blaquestone, Lamont, Fleetwood Deville, Bagfeel, Swagfunk, Deborah Bond, Tamara Wellons, Cmputr Club, Dior, Jacq Jill, Marlee In the Mixx, Kurlou Reggae Allstars, DJ Kryptk, Joe Keyes And The Late Bloomer Band, Dior Ashley Brown & The Dab Band, B Ohms Band, Backbeat Underground, Lennon English, Champion Sound, Footes N Cole And Friends, Winzday Love, Urband Artistry, Face The Poet, Dr. Brolove and The Remedies, Rufus Roundtree & Da B'More Brass Factory, Ida Campbell and Blues Nation, Brass Connection, Malik Dope Drummer, Shamain, Ted Baker, Lil Maceo, Cheick Hamala Dirbate, Jon Q, Zach Cutler, Leftist, Juspaul, Curtis Johnson And The Band Enternity, Meche Korrect, Black Masala, Pebble To Pearl, Jouwala Collectie, Grindstone, Band of Tomorrow, Moshe Music, Zodiak Dc, FunkHouse, Julie Outrage, Ridge Banks And The Green Scoth Band, Jay Cube, Hung Too Choy Mei Lucky Lions, Isbelle De Leon, National Hand Dance Association, The Unknowns Band, Shining Blade Theory, O' Jon, Zacheser, Moses Stone, Malcom X Drummers and Dancers, Universal Capoeira, Josanne Francis Trio, Molusa Three Man Soul Machine, Kazake By Azka-Bom, Harambee, Dailey Method, Vava United Washington School of Samba, DJ Shiva, Franklin, Los Griteros De Sangurshington, Pan Lara Youth Ensemble, Sticks, Bras Youth Marimba Ensemble
Website: funkparade.com
Facebook: facebook.com/thefunkparade | Twitter: @FunkParade
DC101 Kerfuffle 2017
Date: May 14, 2017
Location: Merriweather Post Pavilion
Lineup: King of Leon, Weezer, Jimmy Eat World, Fitz and the Tantrums, Catfish and the Bottlemen
Website: dc101.iheart.com
Facebook: facebook.com/dc101 | Twitter: @dc101
Preakness Infieldfest at Pimlico
Date: May 20, 2017
Location: Pimlico Course
Lineup: Good Charlotte, LOCASH, High Valley, and Sam Hunt.
Website: preakness.com/infield/infieldfest
Facebook: facebook.com/InfieldFest | Twitter: @PreaknessStakes
Chesapeake Bay Blues Festival
Date: May 20 & 21, 2017
Location: Sandy Point State Park, Annapolis, MD
May 20th Lineup: The Mavericks, Butch Trucks & The Freight Train Band, Walter Trout, Samanth Fish, Toronzo Cannon, Frank Bang & the Cook County Kings, Sweet Leda
May 21st Lineup: Jonny Lang, Robert Randolph and the Family Band, Ana Popovic, William Bell Band, The Mississippi Blues Child Mr. Sipp, The Apocolypse Blues Revue, & Swamp Candy
Website: bayblues.org
Facebook: facebook.com/pages/Chesapeake-Bay-Blues-Festival/238000380291 | Twitter: @ChesBayBlues
Sowebo Arts and Music Festival
Date: May 28, 2017
Location: 100 and 1000 blocks of Hollins Street, Baltimore, MD
Lineup: To The Moon, Troll Tribe, The Solicitors, Wise Eyes, Pasadena, Blank Point Method, Bond and Bentley, Fake Flowers Real Dirt, Puddle, Helena Handbasket, Exit 17 Trio, Ex, The Godz, Tru Fax & The Insaniacs, The Kurt Deemer Band, The Fred Collins Experience (Motor Morons), Rasha Jay, Taylor Milton, Mary-EL, Coexist Music Group, Jazz Thieves
Website: soweboarts.org
Facebook: facebook.com/pages/Sowebo-Arts-and-Music-Festival/355515701596
Maryland Deathfest (MDF)
Date: May 25-28, 2017
Location: 545 N. High Street (Edison parking lot), Baltimore Soundstage & Rams Head Live.
Lineup: Acheron, Acid King, Akercocke, Autopsy, Batushka, Behexen, Birdflesh, Brodequin, Captain Cleanoff, Candlemass, Chepang, Cognitive, Conan, Crud, Cryptopsy, Decrepit Birth, Die Choking, Disparo, Dopethrone, Embalmer, Encoffination, English Dogs, Ex Dementia, Exhumed, Exumer, Father Befouled, Fiend, Fissure, Flash Out, Fucking Invincible, Genocide Pact, Goolagoon, Goratory, Gorgasm, GosT, Grave, Insect Warfare, In The Woods…, Iron Lung, Junior Bruce, Kerasphorus, Macabre, Malignancy, Meth Leppard, Morbid Angel, Morbid Saint, Mother Brain, Myxoma, Necropsy, Nightbringer, Night Raids, Nordjevel, Occultist, October Tide, Oranssi Pazuzu, Organ Dealer, P.L.F., Root, Samothrace, Sargeist, Skeletal Remains, Siege, Stormtroopers of Beer, SubRosa, Suppression, Terrorizer, Tiamat, Torture Rack, Usurper, UxDxS, Vader, War Master, Wormrot
Website: marylanddeathfest.com
Facebook: facebook.com/MarylandDeathfest | Twitter: @mddeathfest
Delfest
Date: May 25-28, 2017
Location: Cumberland, MD (ROAD TRIP!)
Lineup: The Del McCoury Band, The Travelin' McCoury's, Feat. Appearance by Special Guest Dierks Bentley, Trey Anastasio Band (Two Sets), Gov't Mule, Bela Fleck & Chris Thile, Leftover Salmon, Hot Rize, The Infamous Stringdusters, Steep Canyon Rangers, Marty Stuart & His Fabulous Superlatives, Sierra Hull, Jeff Austin Band, Cabinet, Donna The Buffalo, Billy Strings, Joe Craven & The Sometimes, Junior Sisk & Ramblers Choice, Dre's Gospel Collective, Railroad Earth, Red Knuckles & The Trailblazers, Tim O'Brien, The Gibson Brothers (special trio set: Leigh & Eric Gibson and Mike Barber), River Whyless, Dead Man Winter feat. Dave Simonett (Trampled By Turtles),Cris Jacobs, The Broomestix, Dead Winter Carpenters, The Ballroom Thieves, Head For the Hills, Ghost of Paul Revere, Kitchen Dwellers, Grand Ole' Ditch
Website: delfest.com
Facebook: facebook.com/delfest| Twitter: @DelFest
June
Dreamscape Festival
Date: June 1-4, 2017
Location: Darlington, MD
Lineup: Autograf, Chris Lake, Delta Heavy, Destructo, Ekali, Keys N Krates, The Floozies, Troyboi, Barely Alive, Lumberjuck, Sunsquabi, Viktual Riot, Arius, Bikel Boys, Bommer, Dubladz, Eprom, Golf Clap, Gypz, Helicopter Showdown, Infuze, Krimer, Mantis, Soohan, Thritworks, Wax Future, 2RIP, Arcada, B-rice, Basscamp, Bunk Buddha, Choppyoppy Live, Beltanine, Elemental, FAQ, Julius Jetson, Kris Cayden, M. Pyre, Mack Turner, DJ Nysus, Pyrite, Riza, Ruckle, Sketchy Pete, Banditz, Wetsleppers, Tre Justice, Tripnotic, WkndBaes, Zachaser, A Thousand Drunk DJS, Actual Records, Alex Noize, AMP, Army of 12 Monkeys, Bad Ginger, BeGood, Bete Noire, Big City, Black Daddy, Captain Carlos, Crono, D.M.T., Daed Digital, Desafinado, DJ EPX, DJ Nintendo Frog, DJ Rise, Enamour, Evan Riley, Flyer Power, Foredaze, GXNNXR, Hogan, Jake Dukes, Kardiak, Kidfratello, Massacat, MC Heretik, Mlem, Mojo Risin, Musho, Nazariff, Normal Trade, Obscure, Propr, Rabat, Rawjazz, Reinhold, Shizz Lo, Sweet Teeth, Syfer, Thomas Marlar, Toy Maka, Treachery, Turnpike Tricksters, V.X.
Website: dreamscapefestival.com
Facebook: facebook.com/dreamscapefestival | Twitter: @dreamscapefesti
The 10th Annual Roots Picnic (Philadelphia)
Date: June 3, 2017
Location: Festival Pier at Penn's Landing (Road Trip!)
Lineup: Pharrell & The Roots, Lil Wayne, Solange, 21 Savage, Kimora, Black Thought & J Period Live Mixtape ft. Fat Joe, Mobb Deep, Scott Storch, ThunderCat, Jeezy, Michael Kiwanuka, Pete Rock, A Boogie Wit Da Hood, James Vincent McMorrow, NoName, Giles Peterson ft MC Earl Zinger, Playboi Carti, DJ Spinna, Tunji IGE, Anthony Somebody, & DJ N.O.C.
Website: rootspicnic.com/
Facebook: facebook.com/okayplayer | Twitter: @okayplayer
Capital Jazz Fest
Date: June 2-4, 2017
Location: Merriweather Post Pavilion
June 2 Lineup: "Friday Night Soul Concert" Lineup TBD
June 3 Lineup: Corinne Baily Rae, Incognito, "West Coast Jam" featuring Rick Braun, Norman Brown, & Richard Elliot, Luke Ritenour, Pieces of a Dream, Candy Dulfer, Nathan East, Jaheim, The Whispers, El DeBarge, Avery Sunshine, & Kelly Price
June 4 Lineup: George Benson, Chris Botti, After All: A Capital Jazz Tribute to Al Jarreau, Maysa, "Jazz Funk Soul" featuring Jeff Lorber, Chuck Loeb, & Everette Harp, Kirk Whalum, Lindsey Webster, Anthony Hamilton, Sheila E, Loose Ends, Tank, Algebra Blessett, & more to be announced!
Website: capitaljazz.com/fest
Facebook: facebook.com/capjazzfestcruise
Heavy Seas Blunderbuss Music Fest
Date: TBD
Location: Rash Field, Inner Harbor, Baltimore, MD
Lineup: TBD
Website: hsbeer.com
Facebook: facebook.com/heavyseasbeer | Twitter: @heavyseasbeer
Firefly Music Festival
Date: June 15 – June 18, 2017
Location: Dover, Delaware (ROAD TRIP!)
Lineup: The Weeknd, Muse, Twentyone Pilots, Chance The Rapper, Bob Dylan, Flume, Weezer, The Shins, Thirty Seconds To Mars, Dillon Francis, Miike Snow, Kesha, Franz Ferdinand, Galantis, The Naked and Famous, Kaleo, Busta Rhymes, Banks, O.A.R, Bleachers, Benny Benassi, Lil Dicky, Misterwives, T-Pain, Snakehips, DJ Jazzy Jeff, Wale, Bob Moses, Cashmere Cat, The Strumbellas, Nahko and Medicine For The People, Daya, Matoma, Illenium, Gryffin, Francis and the Lights, Stick Figure, Slushii, NF, Big Wild, Eden, The White Panda, Bishop Briggs, Hamilton Leithauser, Sir Sly, Alan Walker, Lewis del Mar, Judan & The Lion, K. Flay, Muna, Maggie Rogers, Jacob Banks, Sam Feldt, Sofi Tukker, Magic Giants, Barns Courtney, Anna Lunoe, Jonas Blue, Blossoms, Meg Mac, Rainbow Kitten Suprise, Sunflower Bean, A R I Z O N A, Sir the Baptist, Quinn XCII, James TW, Kaiydo, Crywolf, Elohim, Fickle Friends, Pardison Fontaine, Handsome Ghost, Kevin Garrett, 888, Steve James, Shaed, Taylor Bennett, Dreamers, Win and Woo, Alex Wiley, Secret Weapons, Young Bombs, Andy Frasco & The U.N., Ayokay, Foreign Air, Goody Grace, Mondo Cozmo, Nawas, Rozes, Saint WKND, CVBZ, Dead Man Fall, Wilderado, Fletcher, Savoir Adore, Lawrence, Spiritual Rez, Salt Catherdral, Jared & The Mill, Sub-Radio, Warm Brew, Hamish Anderson, New Madrid, The Orphan The Poet, Walker Lukens, Roadkill Ghost Choir, Owel, The Steppin Stones, The Social Animals, The Lawsuits, Repeat Repeat, Deal Casino, Animal Years, Cold Roses, Carverton, Michael Blume, Hdbeendope, Louie Louie, Trio, Shizz Lo, Future Genrations, Vita and The Woolf, Oddkidout, Quitehype, Short Sleeve Heart, Astro 8000, Bencoolen, Mir Fontane, Armani Lee, Dude Ranch & The Girl At The Rock Show, Chill Moody, Joie Kathos, Miles Chancellor, Ill Fated Natives, Luke O'Brien, Anna Shoemaker, Hardwork Movement
Website: fireflyfestival.com
Facebook: facebook.com/FireflyMusicFestival | Twitter: @LiveAtFirefly
Mountains of Music Homecoming
Date: June 9-17, 2017
Location: Multiple Locations in Southwest Virginia
Lineup: Ralph Stanley II & The Clinch Mountain Boys with Special Guests Larry Sparks and Ricky Skaggs, Doyle Lawson & Quicksilver, Jerry Douglas & The Earls of Leicester, Alasdair Fraser & Natalie Haas, Quebe Sisters, Jeff Little Trio, New Ballards Branch Bogtrotters, Wayne Henderson & Virginia Luthier Band, Jeff Brown & Still Lonesome, Crooked Road Ramblers, Flatt Lonesome, Fiddlin' Carson Peters & Iron Mountain, The Church Sisters, Elizabeth Laprelle, Sheila Kay Adams, Archie Fisher, Dori Freeman, Amythyst Kiah, Will Jones, Wayne Henderson, Jesse McReynolds & The Virginia Boys, John Roberts, Aoife Clancy, Norman Kennedy, Emi Sunshine, Volume Five, Laura Leigh Jones, Shadowgrass, Whitetop Mountain Band, Snyder Family Band, Mountain Park Old Time Band, Loose Strings, & more to come.
Website: mtnsofmusic.com
Facebook: facebook.com/mtnsofmusichomecoming | Twitter: @mtnsofmusic
DC Jazz Festival
Date: June 9-18, 2017
Location: Multiple Venues
Lineup: Gregory Porter, Robert Glasper Experiment, An Evening With Pat Matheny, The Kenny Garrett Quintet, Black Violin, Roy Haynes Fountain of Youth Band, Ron Carter-Russell Malone Duo, Jane Bunnett and Maqueque, Odean Pipe Saxophone Choir, Mary Halvorson Octet, Hiromi & Edmar Castaneda Duo, Kandace Springs, Chano Dominguez, Mbowie and The Blast, Ola Onabule, New Century Jazz Quintet, Sarah Elizabeth Charles, Tommy Emmanuel, Smithsomian Jazz Masterworks Orchestra, Lori Williams, Bill Cole, Joseph Daley, Gerald Veasley, Michael Thomas Quintet, Allyn Johnson UDC Jazztet, Youngjoo Song Septet, James King Band, Tommy Cecil, Billy Hart, Emmet Cohen, Herman Burney's Ministerial Alliance, Kris Funn's Cornerstone, Amy Shook and The Sr5tet, Trio Vera W/ Victor Dvoskin, Cowboys and Frenchmen, Anthony Nelson Quartet, Japanese Cultural Center Artist, 2017 DCJazzPrix Finalists, Lena Seikaly, Alison Crockett, Irene Jalenti, Tim Whalen Septet, Janelle Gill, Jogo Project, Jeff Antoniuk & the Jazz Update
Website: dcjazzfest.org/
Facebook: facebook.com/dcjazzfest | Twitter: @dcjazzfest
July
Smithsonian Folklife Festival
Date: June 29 – July 4, 2017 & July 6 – 9, 2017
Location: Between Seventh and Twelfth streets, adjacent to the Smithsonian Castle; Washington, DC
Lineup: See Website
Website: festival.si.edu
Facebook: facebook.com/smithsonianfolk | Twitter: @smithsonianfolk
Flashlight Music Festival (CANCELLED!)
Date: July 8, 2017
Location: Camden Waterfront Park, Baltimore, MD
Lineup: Black Alley, Kelly Bell Band, Sweet Leda, Waverunners, Kissi B and that Dude Nammed Jimmy, & The Out of Water eXperience
Website: flashlightbaltimore.org
Facebook: facebook.com/Flashlight-Baltimore | Twitter: @FlashLightBalt
Merryland Music Fest
Date: TBD
Location: Merriweather Post Pavilion
Lineup: TBD
Website: merriweathermusic.com
Facebook: facebook.com/merrylandmusicfest | Twitter: @MerrylandFest
Vans Warped Tour
Date: July 16, 2017
Location: Merriweather Post Pavilion
Lineup: After the Burial, Alestorm, American Authors, Andy Black, Anti-Flag, Attila, Bad Cop / Bad Cop, Bad Omens, Bad Seed Rising, Barb Wire Dolls, Beartooth, Being As An Ocean, Big D And The Kids Table, BlessTheFall, Boston Manor, Candiria, Carnifex, CKY, Counterparts, Courage My Love, Creeper, Dance Gavin Dance, Emmure, Farewell Winters, Feeki, Fire From The Goods, Fit For A King, Futuristic, Goldfinger, Gwar, Hands Like Houses, Hatebreed, Hawthorne Heights, Hundredth, I Prevail, Jule Vera, Knocked Loose, Memphis May Fire, Microwave, Movements, Municipal Waste, Neck Deep, New Years Day, Our Last Night, Sammy Adams, Save Ferris, Separations, Sick Of It All, Silent Planet, Silverstein, Sonic Boom Six, Stacked Like Pancakes, Stick To Your Guns, Street Dogs, Sworn In, Sylar, The Acacia Strain, The Adolescents, The Alarm, Ataris, The Gospel Youth, The White Noise, Too Close To Touch, Trophy Eyes, Valient Thorr, War On Women, Watsky, & William Control
Website: vanswarpedtour.com
Facebook: facebook.com/warpedtour | Twitter: @VansWarpedTour
Artscape
Date: July 21 – 23, 2017
Location: Baltimore, MD
Lineup: Sheila E., Gogol Bordello, Robert Randolph & the Family Band, April Sampe, Alexis Joyce, Baltimore Jazz Works, 8 Ohms Band, Ama Chandra, Why Lie Band, Low Cut Connie, T.K. Blue, J Pope & the Hear Now, Omari Banks, the Ron Holloway Band, Bloomer, Tom Principato, David Cole, Fruition Experience, East The Cake Band, Rolled Gold, Lenore Lenoir, Wordsmith, Faame Emanuel, The Players Band, Super Bueno, Get Steady, Super City, K-Stone, The El Mansouris, The Funky T, Janelle, Baltimore City Public School Bands, Ebb & Nova, Minmus The Poet, Them Animals, Scroll Downers, Pocket Bells, Martina Lynch, Old Eastern, Legends of Et cetra, Blood Mist, Wing Dam, Sky Divers, Hones Holoway, Natural Velvet, Raindeer, & Plurals
Website: artscape.org
Facebook: facebook.com/Artscape.Baltimore | Twitter: @ArtscapeBmore
Floydfest
Date: July 26 – 30, 2017
Location: Floyd, VA
Lineup: Michael Franti & Spearhead, St. Paul & The Broken Bones, Leftover Salmon, Railroad Earth, Steel Pulse, Shovels & Rope, White Denim, Turkuaz, Fruition, Nicola Cruz, TAUK, The Steel Wheels, HoneyHoney, Big Something, Shook Twins, Baskery, Aaron Lee Tasjan, Zach Deputy, Jack Broadbent, Davy Knowles, Trae Pierce & The T-Stones, The Lil' Smokies, Rebekah Todd & The Odyssey, Urban Soil, T Sisters, Banditos, Jon Stickley Trio, The Tillers, Alanna Royale, The STash! Band, Strange Americans, Whiskerman, The Brother Brothers, Honey Island Swamp Band, The Mantras, Edward David Anderson, Dead 27s, McLovins, Hayley Jane & The Primates, The Drunken Hearts, Strange Machines, Kansas Bible Company, Liver Down The River, Broccoli Samurai, Howard Falco, Dixon's Violin, Oakley The Greenman
Website: floydfest.com
Facebook: facebook.com/FloydFestVA | Twitter: @floydfest
xPoNential Music Fest
(ROAD TRIP)
Date: July 28 – 30, 2017
Location: Camden, NJ
July 28: Wilco, Offa Rex, Angel Olsen, Hop Along, Arkells, Pinegrove, Brownout, Hurry, & Swift Technique
July 29: Amos Lee & Friends Feat. Preservation Hall Jazz Band. Spoon, Preservation Hall Jazz Band, Charles Bradley & His Extraordinaires, Rhiannon Giddens, Strand Of Oaks, Foxygen, Dave Hause & The Mermaid, Chicano Bataman, The Suffers, Xenia Rubinos, & The Dove & The Wolf
July 30: Drive-By Truckers, The Record Company, Hurray For The Riff Raff, David Bromberg Quintet, Joseph, Davy Knowles, The Dream Syndicate, Adia Victoria, Sweet Spirit, No Good Sister, & Hardwork Movement
Website: xpnfest.org
Facebook: facebook.com/xpnfest | Twitter: @xpnfest
August
Summer Spirit Festival presented by CD Enterprises
Date: August 5 & 6, 2017
Location: Merriweather Post Pavilion
Lineup: Kenny 'Babyface' Edmonds, Bel Biv Devoe, Fantasia, SWV, De La Soul, The Internet, Trombone Shorty & Orleans Avenue, Guy featuring Teddy Riley, Common, En Vogue, Ro James, DJ Kool, Experience Unlimited featuring Sugarbear, Tish Hyman, Moonchild, Wisdom Speeks, & Jazmine Sullivan
Facebook: facebook.com/cdepresents/ | Twitter: @CDEPresents
African American Festival
Date: August 12, 2017
Location: Druid Hill Park
Lineup: London Savoy,YBS Skola, Phraze the Whisperer, Tate Kobang, Charles Johnson, Jr.
Website: http://afram.baltimorecity.gov/
Moonrise Festival
When: August 12-13, 2017
Location: Pimlico Course
Lineup: Zeds Dead, Pretty Lights, Dillstradamus, Borgeous, Malaa, Lee Foss, Big Gigantic, Migos, Gramatik, Chet Porterm ELQHIM, TT The Artist, Madeon, Kaskade, Afrojack, Snails, Morgan Page, Louis The Child, Habstrakt, ARMNHMR, Roberto Gonzalez, W3Play, Seven Lions, Flux Pavilion, Getter Rezz, Boombox Cartel, Must Die!, RL Grime, Party Thieves, B2B Ricky Remedy, Rickyxsan, GG McGree, Bassment, vs. Actual Records, Lee Foss, Desert Hearts, Haywyre, Sweater Beats, Goldfish Live, Will Clarke, Kill Frenzy, Sleepy & Boo, Riza, DJ Who W/Patrick Rainey, Porter Robinson, Lil Uzi Vert, Hippie Sabotoge, Run The Jewels, Big Wild, Mikna, Almand, Excision, Yellow Claw, Alan Walker, Markus Schulz, OOkay, Breathe Carolina, Frank Walker, DJ Knowledge, Pieces & C. Rok, Borgeous, Slander, Zomboy, Ganja White Night, G4shi, Carnage, Joyryde, Midnight Tyrannosaurus, AFK, Spock, Banditz, Revazz, Malaa, Shiba San, Jai Wolf, Elephante, Said The Sky, Stelouse, Pluto, PLS&TY, Wingtip, & Savage Patch
Website: moonrisefestival.com
Facebook: facebook.com/moonrisefest | Twitter: @MoonriseFest
Hot August Music Festival
Date: August 19, 2017
Location: Oregon Ridge Park, Cockeysville, MD
Lineup: Old Crow Medicine Show, The Infamous Stringdusters, Lettuce, Turkuaz, Cabinet, The Dustbowl Revival, Baskery, Electric Love Machine, John Mooney & Bluesiana, Lil Ed & The Blues Imperials, Memphis Gold, & Squaring The Cirlce
Website: hotaugustmusicfestival.com
Facebook: facebook.com/HotAugustMusicFestival | Twitter: @HotAugustMusic
LOCKN' Festival
Date: August 24 – 27, 2017
Location: Oak Ridge Farm, Arrington, VA
Lineup: The Avett Brothers, Joe Russo's Almost Dead, Brandi Carlile, Keller Williams, Gov't Mule, moe., JJ Grey & Mofro, Eric Krasno Band, John Butler Trio, Margo Price, TAUK, Pigeons Playing Ping Pong, Marcus King Band, Los Colognes, The Suffers, Umphrey's McGee, Greensky Bluegrass, The String Cheese Incident, Keller Williams' Grateful Gospel, Widespread Panic, Phil Lesh & Friends, Phil Lesh & The Terrapin Family Band – Performing The 40th Anniversary Of Terrapin Station & More, The Revivalists
Website: locknfestival.com
Facebook: facebook.com/LOCKNFestival | Twitter: @locknfestival
Trillectro
Date: TBD
Location: Merriweather Post Pavilion
Lineup: TBD
Website: trillectro.com/
Facebook: facebook.com/trillectro | Twitter: @trillectro
September
Appaloosa Festival
Date: September 1-3, 2017
Location: Front Royal, VA
Lineup: Scythian, Eddie From Ohio, Frank Solivan & Dirty Kitchen, Six-String Soldiers, Humming House, Karikatura, The Gothard Sisters, The Plate Scrapers, Runa, Fireside Collective, Tatiana "Tajci" Cameron, Will Overman Band
Website: appaloosafestival.com
Facebook: Appaloosa Festival | Twitter: @AppaloosaFest
Rosslyn Jazz Festival
Date: September 9, 2017
Location: Gateway Park, 1300 Lee Highway, Arlington, VA
Lineup: The Soul Rebels, Lee Fields & The Expressions, Xenia Rubinos, Joe Keyes & The Late Bloomer Band
Website: rosslynva.org/jazzfest
Facebook: facebook.com/RosslynVA | Twitter: @Rosslynva
Fields Festival
Date: TBD
Location: TBD
Music & DJ Lineup: TBD
Website: fieldsfestival.com
Facebook: Fields Festival | Twitter: @fieldsfest
Shadow Woods Metal Fest
Date: September 14 – 17, 2017
Location: White Hall, MD
Lineup: Vastum, Uada, Panopticon, Withered, Woe, Castle, Amigo The Devil, Human Bodies, Nechochwen, Dead In The Manger, Churchburn, Black Table, Hexis, Heavy Temple, Zud, Aerial Ruin, Ravenwood, Dark Water Transit, Infera Bruo, Worthless, Kyoty, The Owls Anwts, Night Raids, All Hell, Earthling, Toke, Bearstorm, Elagabalus, Seasick Gladiator, Sloth Herder, Dee Calhoun, Fikra, Percussor, Mome, Immaculate Deception, Take To The Woods, Erlkonig, Cut The Architect's Hand
Website: shadowwoodsmetalfest.com
Facebook: facebook.com/shadowwoodsmetalfest | Twitter: @SWMetalFest
Watermelon Park Festival
Date: September 21 – 24, 2017
Location: Watermelon Park Campground, Berryville, VA.
Lineup: Marty Stuart, Keller Williams, The Quebe Sisters, The Seldom Scene, The Dead South, Danny Barnes Trio, Molly Tuttle, Furnace Mountain Band, Megan Downes and the City Stompers, The Woodshedders and more to come.
Website: watermelonparkfest.com
Facebook: facebook.com/Watermelonparkfest | Twitter: @watermelonparkf
Luna Light Music & Art Festival
Date: September 28 – 30, 2017
Location: Camp Ramblewood, Darlington, MD
Line-up: Cut Copy, Emancipator, Shobaleader One, the Gaslamp Killer, Com Truise, Nosaj Thing, Bottin, Blockhead, Nerve, Dan Deacon, Hot Sugar, Cleopold, Tortoise, Manifested, Square Peg Round Hole, Damn Right, The Beating, Sixis, Digital Davy, Phil Dice, Malakai, Flote, Risky Disco, Speaker Bot, Jizzy Fra, Choppyoppy, Tektonic, Trap Rabbit, Hungry Ghost, & Face Plant
Website: lunalightfestival.com
Facebook: facebook.com/lunalightfestival
Boondocks Music Festival
Date: September 30, 2017
Location: Hagerstown, Maryland
Lineup: Shooter Jennings, Colter Wall, Hellbound Glory, Josh Morningstar & the Pick-Ups, The Wallace Brothers Band, & Mindy MIller & The Chrome Tears
Website: boondocksfest.com
Facebook: facebook.com/boondocksfest| Twitter: @boondocksmd
October
The Festy Experience
Date: October 5-8, 2017
Location: Arrington, VA
Lineup: Drive By Truckers, The Infamous Stringdusters, Sam Bush Band, The Travelin' McCoury's, The Jerry Douglas Band, Cabinet, Billy Strings, Love Canon, Carl Anderson
Website: thefesty.com
Facebook: facebook.com/thefesty | Twitter: @thefesty
All Things Go Fall Classic
Date: October 6-8, 2017
Location: Yards Park, Washington, DC
Lineup: Foster The People, Galantis, Young Thug, Bleachers, Vince Staples, Cashmere Cat, The Knocks, Betty Who, Bearson, Foreign Air, Now, Now, Fletcher, Saba, Jacklndn, Kweku Collins, JayIDK, Great Good Fine Ok, Win And Woo, Internet James, April, Vista, Young Futura
Website: allthingsgofallclassic.com
Facebook: facebook.com/allthingsgomusic | Twitter: @allthingsgo
The U+Nfest
Date: October 21-22, 2017
Location: The Ottobar, Baltimore, MD
Lineup: Mean Jeans, ESG, Celebration, Wingdam, Stuck Pigs, Mannequin Pussy, Birth (Defects), Dark Thoughts, Sun club, Purrer Melter, Guilt Parade, UpStairs, Punk Is A Drag, Big Mouth, Snailmail, Olivia Neutron John, Escape-ism, Gauche, Claw, Lip, Bacchae, DJ Em Rabbit
Website: unfest.tumblr.com
Facebook: facebook.com/unfest
Days Of Darkness Festival
Date: October 28-29, 2017
Location: Rams Head Live, Baltimore, MD
Saturday, October 28th Lineup: Neurosis, Manilla Road, Captain Beyond, Perturbator, Elder, Cavity, Dance with the Dead, Dälek, Computer Magic, Crypt Sermon, Alms
Sunday, October 29th Lineup: Om, Cirith Ungol, Warning, Boris, GosT, Unearthly Trance, Le Matos, Bongripper, Magic Sword, Night Demon, Asthma Castle
Website: Days Of Darkness Website
Please check the website of all of the festivals to confirm the festival lineup. All lineup's are subject to change. As artist are added to the festival lineup's and dates are confirmed this article will be updated.
Copyright 2017 (c) Metromontage.com
Photo By Anthony Washington