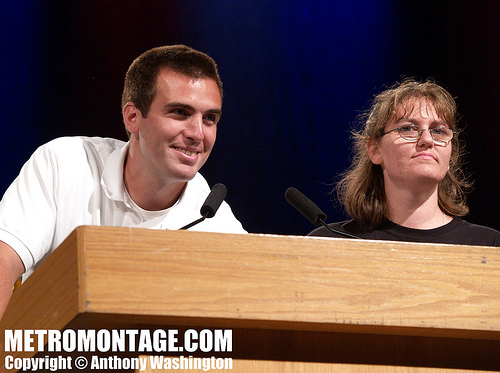 Baltimore Ravens Quarterback Joe Flacco talks to the athletes of Special Olympics Maryland before saying the Special Olympics Athlete Oath during the opening ceremonies of the Special Olympics Maryland Summer Games at the Towson Center on the campus of Towson University on Friday, June 11, 2010 in Towson, MD.
The 2010 Special Olympics Maryland Summer Games was the 40th anniversary of the Summer Games in the state of Maryland. The weekend kicked off on Friday, June 11 with athletics preliminaries, a block party, torch run, and opening ceremonies. These events were followed by two days of competition.
More than 1100 athletes from across the state of Maryland participated a variety of athletic events. These events included, Aquatics, Athletics, Bocce, Cheerleading, Equestrian, Softball and Unified Sports Teams. Unified Sports Teams bring together an equal number of athletes with and without an intellectual disability to compete in a team sport.
All though the high temperatures and the threat of a few thunderstorms caused some delays, all of the athletic events were completed.
More information about Special Olympics Maryland can be found on their website. www.somd.org
More Photos
Get the flash player here: http://www.adobe.com/flashplayer
Photo By: Anthony Washington
Copyright © 2010 * All Rights Reserved *