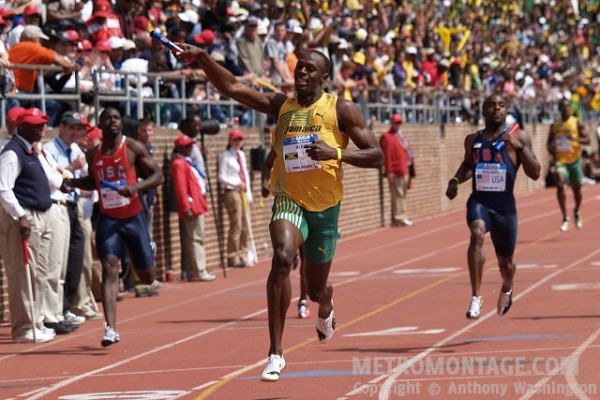 Jamaican sprinter Usain Bolt points to the crowd and celebrates after competing in the USA vs. the World 4×100 at the Penn Relays athletics meet on Saturday, April 24, 2010, in Philadelphia, PA.
The 116th running of the Penn Relays took place from April 22 -24, 2010. Attracting participants and attendees from all over the United States and from around the world, the Penn Relays at Franklin Field is an event that every track & field fan and athlete dreams of coming to one day.
The first Penn Relays took place on April 21, 1895 attracting approximately 5,000 people. Nine relay events were scheduled the first year, four for high schools and prep schools, four for colleges, and a college championship. Today, those numbers have dramatically increased with more than 22,000 entrants annually from 60 countries and more than 425 events taking place.
Over the three days of the 2010 Penn Relays, 117,346 fans came out to cheer on high school, college, professional, and Special Olympics athletes. That is 3,000 more than the old attendance mark set in 2006 of 114,194 people.
With track & field superstar Usain Bolt scheduled to compete in the USA vs. the World 4×100 meter relay on Saturday, April 24, the attendance on Saturday skyrocketed to 54,310 from 38,904 on Friday. This made for a great atmosphere for the many high school and college athletes representing their respective schools.
190 high schools and 36 colleges represented DC, Maryland, and Virginia area proudly. The highlight of the meet for the D.M.V had to be the Distance Medley team from Good Counsel High School in Olney, MD winning the High School Boys Distant Medley Championship of America. The team of Thomas Tallerico (3:10.5), Cortlandt Harris (47.2), Fola Shokunbi (1:55.7), and Kyle Graves (4:15.7) finished in 10:09.07 beating out Burnt Hills-Ballston Lake High School (Burnt Hills, NY) by a little over 1 second.
More Photos:
Get the flash player here: http://www.adobe.com/flashplayer
Photo By: Anthony Washington
Copyright © 2010 * All Rights Reserved *