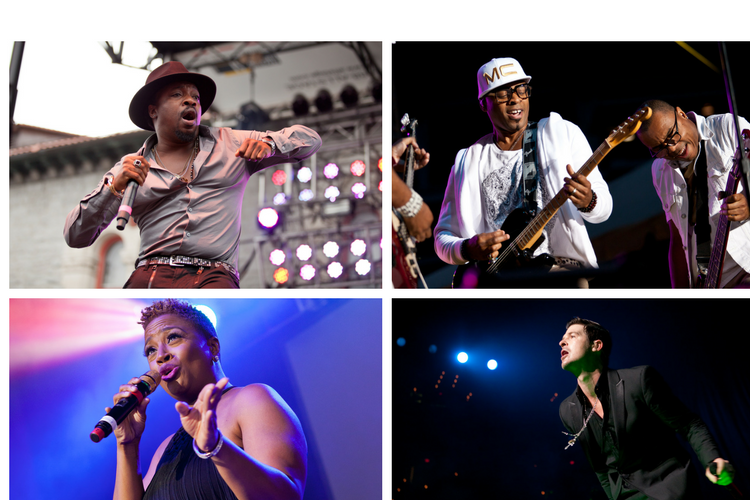 Anthony Hamilton, Stokley of Mint Condition, Avery Sunshine, & Robin Thicke are just some of the artist that will perform at the Capital Jazz Fest this weekend. Photos By Anthony Washington
EDM, Jazz, and Hip Hop are on deck for this weekend's music festival calendar. Dreamscape Festival will take place in Darlington, MD, Capital Jazz Fest will take over Merriweather Post Pavilion in Columbia, MD, and last but not least up in Philadelphia the 10th Annual Roots Picnic will fill the city's Festival Pier.
Here are the details! I hope you find your way to one of these music festivals this weekend.
Dreamscape Festival
Date: June 1-4, 2017
Location: Darlington, MD
Lineup: Autograf, Chris Lake, Delta Heavy, Destructo, Ekali, Keys N Krates, The Floozies, Troyboi, Barely Alive, Lumberjuck, Sunsquabi, Viktual Riot, Arius, Bikel Boys, Bommer, Dubladz, Eprom, Golf Clap, Gypz, Helicopter Showdown, Infuze, Krimer, Mantis, Soohan, Thritworks, Wax Future, 2RIP, Arcada, B-rice, Basscamp, Bunk Buddha, Choppyoppy Live, Beltanine, Elemental, FAQ, Julius Jetson, Kris Cayden, M. Pyre, Mack Turner, DJ Nysus, Pyrite, Riza, Ruckle, Sketchy Pete, Banditz, Wetsleppers, Tre Justice, Tripnotic, WkndBaes, Zachaser, A Thousand Drunk DJS, Actual Records, Alex Noize, AMP, Army of 12 Monkeys, Bad Ginger, BeGood, Bete Noire, Big City, Black Daddy, Captain Carlos, Crono, D.M.T., Daed Digital, Desafinado, DJ EPX, DJ Nintendo Frog, DJ Rise, Enamour, Evan Riley, Flyer Power, Foredaze, GXNNXR, Hogan, Jake Dukes, Kardiak, Kidfratello, Massacat, MC Heretik, Mlem, Mojo Risin, Musho, Nazariff, Normal Trade, Obscure, Propr, Rabat, Rawjazz, Reinhold, Shizz Lo, Sweet Teeth, Syfer, Thomas Marlar, Toy Maka, Treachery, Turnpike Tricksters, V.X.
Website: dreamscapefestival.com
Facebook: facebook.com/dreamscapefestival | Twitter: @dreamscapefesti
Capital Jazz Fest
Date: June 2-4, 2017
Location: Merriweather Post Pavilion
June 2 Lineup: Charlie Wilson & Robin Thicke
June 3 Lineup: Corinne Baily Rae, Incognito, "West Coast Jam" featuring Rick Braun, Norman Brown, & Richard Elliot, Luke Ritenour, Pieces of a Dream, Candy Dulfer, Nathan East, Jaheim, The Whispers, El DeBarge, Avery Sunshine, & Kelly Price
June 4 Lineup: George Benson, Chris Botti, After All: A Capital Jazz Tribute to Al Jarreau, Maysa, "Jazz Funk Soul" featuring Jeff Lorber, Chuck Loeb, & Everette Harp, Kirk Whalum, Lindsey Webster, Anthony Hamilton, Sheila E, Loose Ends, Tank, Algebra Blessett, & Stokley
Website: capitaljazz.com/fest
Facebook: facebook.com/capjazzfestcruise
The 10th Annual Roots Picnic (Philadelphia)
Date: June 3, 2017
Location: Festival Pier at Penn's Landing (Road Trip!)
Lineup: Pharrell & The Roots, Lil Wayne, Solange, 21 Savage, Kimora, Black Thought & J Period Live Mixtape ft. Fat Joe, Mobb Deep, Scott Storch, ThunderCat, Jeezy, Michael Kiwanuka, Pete Rock, A Boogie Wit Da Hood, James Vincent McMorrow, NoName, Giles Peterson ft MC Earl Zinger, Playboi Carti, DJ Spinna, Tunji IGE, Anthony Somebody, & DJ N.O.C.
Website: rootspicnic.com/
Facebook: facebook.com/okayplayer | Twitter: @okayplayer