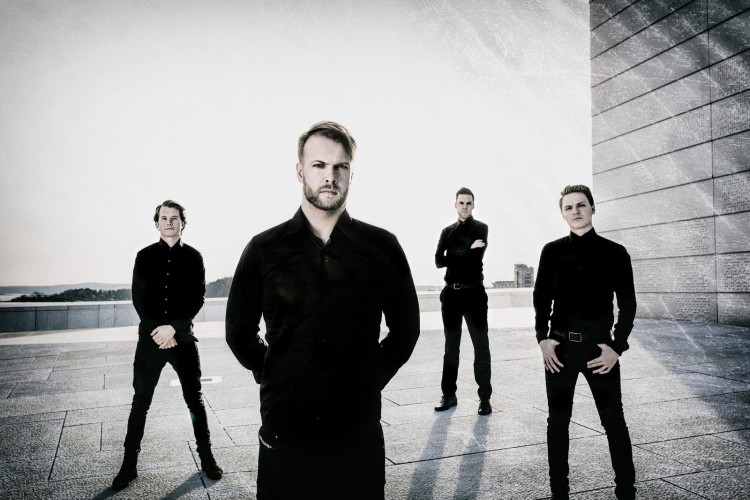 Einar Solberg (center) is the lead singer of the band Leprous. The bands latest album, The Congregation, will be available in North America this Tuesday, June 2, 2015. Photo Courtesy of Leprous.
Welcome to the relaunch of 20 Minutes With. This months edition features an interview with Einar Solberg the lead singer of the Norwegian progressive metal band Leprous. The bands latest album, The Congregation, was released in Europe on Monday, May 25 and will be released in North America on Tuesday, June 2.
A few weeks ago, I had the chance to talk with Einar Solberg by phone while he was traveling. We talked about his first musical influences, the making of The Congregation, song writing, touring, and more.
Anthony Washington: Let's get right to it because I know your time is precious.
Einar Solberg: We can take our time we have a half-hour. [Laughs]
Tell me about the first music you recall hearing as a child.
That's a long time ago. [Laughs] It was very early. I remember Survivors "Eye of the Tiger". There was something before that too, but I expect that it was some Norwegian nursery rhymes or like children's songs. But that was probably the first one. It's so hard to recall, but at least I remember having that cassette in my room with Survivors "Eye of the Tiger" that I listened to a lot.
I remember back when I was a child and the first music that had an impact on me was jazz. My father was a jazz musician and when I first REALLY heard jazz I was wowed. What was the first music that had an impact on you and wowed you?
The band that I started liking then as a kid, that I still like now, was The Prodigy. Actually, I was a big fan of them and then eventually I got into another period in which I only listened to hip-hop, Cypress Hill being the favorite. Then I kind of made my way over to the metal and rock world. It was kind of early Secondary School. I started with several Norwegian metal bands when I was around 16. I started getting into punk music for real. Our bass player at the time was a big punk fan and then I started becoming a huge fan of bands like King Crimson. That's when I really really started becoming truly interested. Before that I had a typical youth's musical taste in stuff and it was not a big passion of mine. But King Crimson was one of the bands that started to have a very big impact on me in music.
In 2009, 2011, & 2013 Leprous put out an album. Now its 2015 and you all are releasing another album. Has this always been the plan, to put out a new album every two years and tour, or is this just a coincidence?
That formula works very well. Recording an album then extensive touring, then you're starting to puke over your old songs because you play them so many times. [Laughs] It's a perfect way to get inspired to write new music. So it's kind of been like touring one year and recording another with some breaks where we do some writing. Then we do some shows here and there.
It's been a formula that has worked very well for us and it works well for me to set deadlines. Even before we have written anything we can schedule the recording. It's a very good way for me to write under pressure.
Speaking of writing. I read that you wrote the songs for The Congregation mostly on your computer. You mentioned that for this album you used your ears instead of your knowledge as your writing tool. Explain how the writing process for The Congregation was different from how you normally write.
The main differences this time was the deadlines. I set myself two deadlines per week, one for each rehearsal, where I needed to write one whole sketch for a song for each of those rehearsals. No matter if it was crappy or whatever it was, it had to be something. I just forced myself. I wrote and wrote and wrote – and we wrote thirty. I wrote thirty sketches. Before, we just wrote the amount of songs that we had on the album and we kept all of them. This time we wrote many more, and then we did a vote. Going over them and listening and hearing the songs true potential. Eventually, you get to the point where you already know what you want to do with a song and in some other cases you know that this is not going to work.
Some of the songs that I felt were the least inspired have become some of the best songs. This just proves my point that you have to continue writing no matter how you feel because you never know when you will find gold. That's what I learned from this process.
You mentioned that some of the songs that you wrote in which you felt the least inspired have become some of your best songs. Which songs on The Congregation fit that description?
One in particular is called "Rewind". I remember I wrote it during the night shift. I was just like I don't want to be here, and I especially did not want to write music. And I wrote and thought… seriously this is the worse load of crap that I have ever written, and I was really embarrassed to send it to the others. [Laughs] Because when we reached the chorus a rift started that reminds me of "Sweet Home Alabama", and no offense to that song, but in the context of the very moody Rhodes and keys that I have before that… it was just completely ridiculous.
But then when we tried it and started playing, and when we got to that section I was like, yeah. The rhythm in the bottom sounds really really messy so I thought if I made some minor changes here and there… suddenly I got very inspired and changed the song. If you hear the initial sketch and compare it with the final result, you can definitely hear that it comes from that sketch. We really got the full potential out of it.
So you never know what really triggers that inspiration inside of you. Sometimes it can be the smallest idea that can trigger it. Because the hardest part is when you have to create something out of nothing and you don't even have any idea about what you want to do. You just have to get something out, and then you can use your brain and your ear to steer it wherever you want it to go. You cannot steer nothing, but you can steer something.
Why was "The Price" chosen as the lead single for The Congregation?
Because it was very straight to the point. It shows a new side of the band, in my opinion, really straight to the point. It's very rhythmical, kind of dry in the sound in the beginning. We've been more known for having very sloping big atmospheric landscapes, earlier. It's a fresh song and it's very catchy. It was the perfect single for the album. I don't think it's the best song or the worse song on the album, but it works very well for that purpose.
What song took the longest to finish?
The song "Red". It was the most rhythmical and complicated song on the album, and that was also the challenge, that it was so complicated. I heard a lot of potential in the song, but I kept on failing trying to make it into a proper song. And then I was about to give up and somebody I showed the song to said "No. Don't give up. This has a lot of potential." Sometimes it is nice to have another person's opinion. I continued to try and steer the song here and there. And then I finally started to feel that it was becoming a proper song not just a series of sections like I felt it was before. It was a challenge to get "Red" where I wanted it.
I read that you believe that this was the most challenging album for you to write to date. Also you mentioned that you consider The Congregation to be the most daring, technical, fresh, and mature album that you all have ever done. What do mean when you say mature?
When I say mature, I mean we analyze everything that we do to a bigger degree and we reevaluate our work much more than we have done in the past. Everything is thought-through.
While a more impulsive and youthful way of writing can also be very nice… but it's just different. To really be able to review each song and look over every single detail, it feels mature to me because it is thought-through more. Nothing is left to chance. Which is the way we wanted it for this album, we wanted it to be very focused and precise in the sound. That is what I mean by mature.
Music festivals are very big over in Europe and music festival season, as I call it, is well on its way here in North America. A couple of years ago Leprous played the Maryland Deathfest. Are there any plans for the band to tour North America?
Absolutely, North America is very high on our list and I can almost guarantee that we will come there in the next year. You should expect some news soon, but nothing official yet.
Speaking of music festivals, what are some of your favorite festivals to play?
The Roadburn Festival, it's an indoor festival, it's one of the best organized festivals I've ever been to. I also would love to go back to Hellfest. Hellfest is a very good festival for us. Last time that we played there we played at 10:30 in the morning, but we still had like 5,000 – 10,000 people at the show. France in general is a very good country for us to play in regarding fans. Also, I like to play both Prague festivals and metal festivals just to get the variation there.
What do you enjoy most about being on tour?
Good shows. When we have those really good dates where everything works out. Meaning the stage, performance, the musicality, the audience, the venue, the technical equipment… those kinds of things. That is what makes everything worth it.
We're on tour to primarily deliver a very good show so we don't party that much when we're traveling. It's not like "the boys" are going out on a trip. We keep it very professional. We're all very good friends, We have a lot of fun on tour, don't get me wrong, but the music and the show comes first. So we wouldn't do anything to jeopardize the show. So yeah, the really good shows are the best part about touring.
Listening to "The Price", the lead single off of The Congregation, I was amazed by the quality of the mix. Whoever your engineer is, they are outstanding. Who mixed the album?
Jens Bogren of Sweden. He is really amazing and he is mixing for tons of bands. Look him up on Wikipedia and you will see the list of bands that he has mixed. It's an insane amount of very well-known metal bands. What is so great about him is that he has his own style and you can recognize his productions, but still he is able to go whatever direction that you point him. It's not many of those really good engineers. Some engineers have too much of an ego for you to be able to point them in any kind of direction. He [Jens Borgen] listens, and if he disagrees with us we can have a discussion. He is a great guy to work with.
The Congregation comes out in North America on June 2, 2015. As the release date for the album and the first tour dates get closer, what song off of The Congregation are you looking forward to performing live?
I am very much looking forward to playing Rewind even though that is probably one of the most challenging ones because of that incredibly fast section in the end. But I am very much looking forward to it because I know it is going to be perfect live. I am also very much looking forward to playing The Price. That is really one of the most difficult songs. It may not sound that difficult, but it is hard to perform that properly. And also, I am looking forward to playing The Flood because I know it's going to be massive live. It's going to sound very big. [Laughs]
More about Einar Solberg, Leprous, and their new album "The Congregation" can be found at Leprous Website.