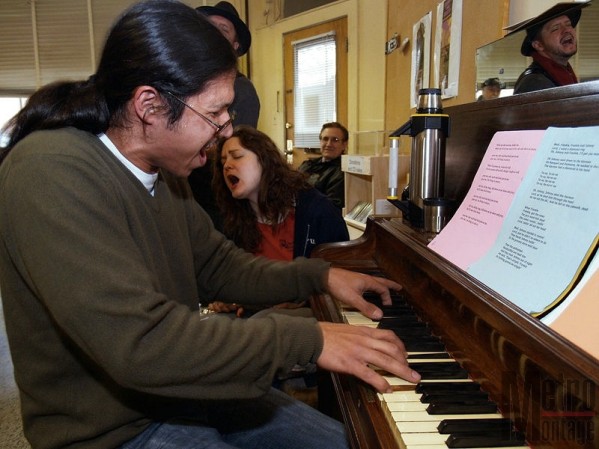 Participants  of the Archie Edwards Barbershop weekly blues jam sing a song together during one of the last jam sessions ever at the establishment on Saturday, January 8, 2008 in Washington, DC.
The Archie Edwards barbershop, a DC institution,  has hosted weekly Blues jams for half a century. The current landlord has decided to sell the building and the jam session now has to be moved to a new location.
Musicians of various skill levels, from all over the metropolitan area, have been encouraged to stop by the shop and sit-in and jam dating back to 1959. The shop was a favorite place of Skip James & Mississippi John Hurt to stop by after they moved to the area. With all of the musicians visiting the shop, impromptu jam sessions would often take place. This is how the weekly Saturday jam session was birthed.
All though Edwards passed away in 1998, his legacy lives on by way of the Archie Edwards Blues Heritage Foundation.
Photo By: Anthony Washington
Copyright © 2008 * All Rights Reserved *