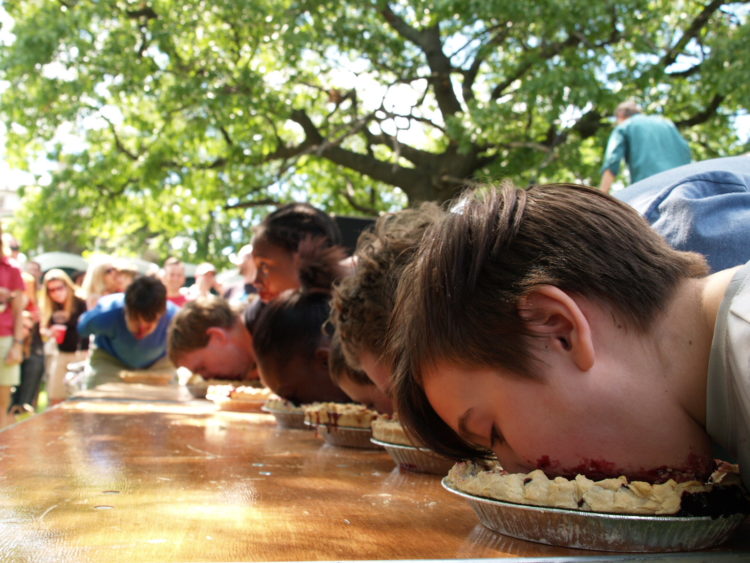 Here is a list of 80 food, wine, beer, whiskey and bourbon festivals throughout the great state of Maryland. This page will be updated throughout the year as additional festival details are released.
Updated: 06/07/2017
February
Health Care for the Homeless Chocolate Affair
Date: Feb. 4, 2017
Location: Baltimore Marriott Waterfront, 700 Aliceanna St Baltimore, MD 21202
Website: giving.hchmd.org
Shore Craft Beer Fest: Love on Tap
Date: Feb. 25, 2017
Location: Seacrets: Jamaica USA 117 49th Street, Ocean City, 21842
Website: shorecraftbeerfest.com
March
Quad State Beer Fest: Shamrocked!
Date: March 11, 2017
Location: AG Ed Center, Hagerstown, MD
Website: quadstatebeerfest.com
Taste of Solomons
Date: March 25, 2017
Location: Solomons Island
Website: solomonsmaryland.com
Maryland Day Beer Festival
Date: March 25, 2017
Location: Gaithersburg, MD
Website: Maryland Day Beer Festival Page
Beer, Bourbon, & BBQ Festival
Date: March 31 & April 1, 2017
Location: Maryland State Fairgrounds, Timonium, MD
Website: beerandbourbon.com
April
Maryland Chicken Wing Festival
Date: April 1, 2017
Location: Anne Arundel County Fairgrounds, Crownsville, MD
Website: Maryland Chicken Wing Festival Website
Wine Stroll
Date: April 1, 2017
Location: Main St., Westminster, MD
Website: westminstermd.gov/winestroll
Interstate BBQ Festival
Date: April 14-15, 2017
Location: Washington County Agricultural Education Center, Hagerstown, Maryland
Website: interstatebbqfestival.com
Savor Bowie Food, Wine & Music Festival
Date: April 22-23, 2017
Location: Bowie Towne Center, Bowie, MD
Website: concertsforcausesinc.org
Bluegrass Brew & BBQ Festival
Date: April 22, 2017
Location: Red Shedman Farm Brewery, Mount Airy, MD
Website: redshedman.com
Pork In The Park
Date: April 22-23, 2017
Location: WaterPlace Park, Salisbury, MD
Website: porkinthepark.org
National Harbor Wine & Food Festival
Date: April 29-30, 2017
Location: National Harbor, Oxon, Hill, MD
Website: wineandfoodnh.com
WineFest at St. Michaels
Date: April 29-30, 2017
Location: St. Michael's, Maryland
Website: winefestatstmichaels.com
May
Taste of Carroll
Date: May 1, 2017
Location: Carroll Hospital East Pavilion, 291 Stoner Avenue, Westminster, MD
Website: carrollhospice.org/taste-of-carroll
Baltimore Food & Wine Festival
Date: May 6, 2017
Location: Rash Field – Inner Harbor, Baltimore, MD
Website: bmorewine.com
Taste of Indian Head
Date: May 6, 2017
Location: Indian Head Village, Indian Head, MD
Website: Taste of Indian Head Facebook Page
Naptown BarBAYq
Date: May 6, 2017
Location: Anne Arundel County Fairgrounds, Crownsville, MD
Website: Naptown BarBAYq Website
King Farm Wine, Beer, & Music Festival
Date: May 6, 2017
Location: Rockville, MD
Website: kingfarmwinefestival.com
Taste of the Town
Date: May 7, 2017
Location: Chestertown, MD
Website: tasteofchestertown.com
Somerset Strawberry Festival
Date: May 13, 2017
Location: Marion Station, Maryland
Website: somersetmdstrawberryfestival.com
Cambridge Beer Festival
Date: May 14, 2016
Location: Cambridge, MD
Website: cambridgemainstreet.com
Beer, Bacon, & Music
Date: May 20, 2017
Location: Frederick, MD
Website: beerbaconmusic.com
Wine In The Woods
Date: May 20-21, 2017
Location: Columbia, MD
Website: wineinthewoods.com
Caribbean Wine, Music, & Art Festival
Date: May 27-28, 2017
Location: Linganore Winecellars, 13601 Glissans Mill Rd, Mt Airy, MD
Website: linganorewines.com
Brew At The Zoo
Date: May 27-28, 2017
Location: Waterfowl Lake, The Maryland Zoo , 1 Safari Place, Baltimore, MD
Website: marylandzoo.org
June
Messiah Lutheran Church Strawberry Festival
Date: June 3, 2017
Location: Sykesville, MD
Website: melchurch.org
Zion United Methodist Church Annual Strawberry Festival
Date: June 3, 2017
Location: Zion United Methodist Church, 2716 Old Washington Rd, Westminster, MD
Website: carrollcountytourism.org
Great Grapes! Wine & Food Festival
Date: June 3-4, 2017
Location: Oregon Ridge Park, Hunt Valley, MD
Website: uncorkthefun.com
St. Mary's County Crab Festival
Date: June 10, 2017
Location: 42455 Fairgrounds Road, Leonardtown, MD
Website: St. Mary's County Crab Festival Website
Interstage Wine Festival
Date: June 17, 2017
Location: Hagerstown, MD
Website: interstatewinefest.com
Beer, Bourbon, & BBQ Festival
Date: June 16-17, 2017
Location: The Plateau at National Harbor, MD
Website: beerandbourbon.com
Chesapeake Crab & Beer Festival
Date: June 24, 2017
Location: Rash Field- Inner Harbor, Baltimore, MD
Website: mdcrabfest.com
July
The NEXTiVAL Food Truck Festival
Date: July 8, 2017
Location: Anne Arundel County Fairgrounds, Crownsville, MD
Website: nextival.com
Potomac Jazz & Seafood Festival
Date: July 8, 2017
Location: Colton's Point, Maryland
Website: facebook.com/PotomacJazzandSeafoodFestival
Tilghman Island Seafood Festival
Date: July 15, 2107
Location: North East, MD
Website: tilghmanmd.com
CASA Wine and Craft Beer Festival
Date: July 29, 2017
Location: Shrine Club Festival Grounds, 13100 Ali Ghan Road, NE, Cumberland, MD 21502
Website: casaofalleganycounty.org
August
Rotary Crab Feast
Date: August 4, 2017
Location: Annapolis, MD
Website: annapolisrotary.org/crabfeast
Peach Festival & Heritage Fair
Date: August 5, 2017
Location: Berlin, MD
Website: berlinmainstreet.com
Frederick Wine Festival
Date: August 5, 2017
Location: Carroll Creek Park, Frederick, MD
Website: celebratefrederick.com
Seafood Feast-I-Val
Date: August 12, 2017
Location: Sailwinds Park, 200 Byrn Street, Cambridge, Maryland
Website: seafoodfeastival.com
Kegs & Cork Fest
Date: August 12, 2017
Location: Anne Arundel County Fairgrounds, Crownsville, MD
Website: kegsandcorksfest.com
Carroll County Farmers' Market Peach Festival
Date: August 12, 2017
Location: 706 Agricultural Center Drive, Westminster, MD
Website: carrollcountytourism.org
Taste of Linganore
Date: August 12-13, 2017
Location: Linganore Winecellars, 13601 Glissans Mill Rd, Mt Airy, MD
Website: linganorewines.com
Chesapeake Crab & Beer Festival
Date: August 19, 2017
Location: National Harbor, MD
Website: mdcrabfest.com
Southern MD Wine, Jazz, R&B and Funk Festival
Date: August 19-20, 2017
Location: Prince Frederick, MD
Website: 3rd Annual Festival Page
Easterns Bayside Blues & Wine Festival
Date: August 19, 2017
Location: Baltimore, MD
Website: easternsbaysidefestival.com
Taste of Prince George's Food & Wine Festival
Date: TBD
Location: Six Flags America, Mitchellville, MD
Website: tasteprincegeorges.com
September
Fish, Fowl, & Folk Festival
Date: September 2, 2017
Location: Harve De Grace
Website: facebook.com/FishFowlFolkFestival/
Deep Creek Lake Art & Wine Festival,
Date: September 9, 2017
Location: Garrett County Fairgrounds, McHenry, MD
Website: deepcreekwinefest.com
Maryland Seafood Festival
Date: September 9-10, 2017
Location: Sandy Point State Park, MD
Website: Maryland Seafood Festival
Baltimore Seafood Festival
Date: September 16, 2017
Location: Baltimore, MD
Website: baltimoreseafoodfest.com
Perry Hall Apple Festival
Date: September 16–17, 2016
Location: Perry Hall, MD
Website: perryhallapplefestival.com
Annual Maryland Wine Festival
Date: September 16-17, 2017
Location: Carroll County Farm Museum, 500 South Center Street, Westminster, Maryland 21157
Website: marylandwine.org/mwf
Annual Crab Feast & Auction
Date: TBD
Location: Catonsville, MD
Website: catonsville.org
A Taste of St. Mary's
Date: September 16, 2017
Location: Leonardtown, MD
Website: visitstmarysmd.com
Wine On The Beach
Date: September 29-30, 2017
Location: Ocean City, MD
Website: winefest.com
Maryland Microbrewery Festival
Date: September 30, 2017
Location: Union Mills Homestead, 3311 Littlestown Pike – Westminster, MD
Website: marylandmicrobreweryfestival.com
Hops & Harvest Festival
Date: September 30, 2017
Location: Columbia, MD
Website: hopsandharvestfest.com
Das Best October Fest
Date: September 30, 2017
Location: National Harbor, MD
Website: dasbestoktoberfest.com
October
Autumn Reggae Wine, Music & Art Festival
Date: October 7, 2017
Location: Linganore Winecellars, 13601 Glissans Mill Rd, Mt Airy, MD
Website: linganorewines.com
Taste of Bethesda
Date: October 7, 2017
Location: Bethesda, MD
Website: bethesda.org
Baltimore Craft Beer Festival
Date: October 7, 2017
Location: Baltimore, MD
Website: baltimorecraftbeerfestival.com
Honey Harvest Festival
Date: October 7-8, 2017
Location: Oregon Ridge Nature Center, 13555 Beaver Dam Road, Cockeysville, MD 21030
Website: oregonridgenaturecenter.org
Maryland Pumpkin Festival
Date: October 7-8, 2017
Location: Summers Farm, 5620 Butterfly Lane, Frederick, MD 21703
Website: summersfarm.com
Stella Maris Crab Feast & Auction
Date: October 8, 2017
Location: Timonium, MD
Website: stellamariscrabfeast.org
Baltimore Beer Week
Date: October 13-22, 2017
Location: Baltimore, MD
Website: baltimorebeerweek.com
Good Beer Festival
Date: October 14-15, 2017
Location: Salisbury, MD
Website: goodbeerfestival.com
Das Best October Fest
Date: October 14, 2017
Location: M&T Bank Stadium Lots, Baltimore, MD
Website: dasbestoktoberfest.com
Beards, Beers, & Brats
Date: October 14, 2017
Location: Mount Airy, MD
Website: beardsbeersbrats.com
Annual National Oyster Festival
Date: October 21-22, 2017
Location: 42455 Fairgrounds Rd, Leonardtown, MD
Website: usoysterfest.com
Pig & Swig – The All Star Bacon, Bourbon, & Craft Beer Festival
Date: TBD
Location: Power Plant Live, 34 Market Pl., Baltimore, MD 21202
Website: visitmaryland.org
Crabi Gras Hot Sauce and Oyster Festival
Date: TBD
Location: Cambridge, MD
Website: crabigras.com/
Annual Pumpkin Festival
Date: TBD
Location: 22222 Davis Mill Road, Germantown, MD
Website: butlersorchard.com
Oyster Fest
Date: October 28, 2017
Location: St. Michael's, MD
Website: cbmm.org
Crab Feast at St. Thomas Parish
Date: TBD
Location: St. Thomas Parish, Upper Marlboro, MD
Website: facebook.com/stthomascroom
Charles County Food Wine & Beer Festival
Date: TBD
Location: Regency Furniture Stadium, Waldorf, Maryland
Website: charlescountywinefestival.com
November
Oyster Jam
Date: November 4, 2017
Location: Phillips Wharf Environmental Center, 6129 Tilghman Island Rd, Tilghman, MD
Website: phillipswharf.org
Baltimore Whiskey Festival
Date: November 9, 2017
Location: Baltimore, MD
Website: bmorewhiskey.com
Brew & Bourbon Classic
Date: November 18, 2017
Location: Laurel Park, MD
Website: drinkeatrelax.com
Chili & Beer Festival
Date: TBD
Location: Laurel Park, MD
Website: sykesvillemainstreet.com
December
Annapolis Chocolate Binge Festival
Date: December 3, 2017
Location: Annapolis, MD
Website: annapolischocolatefestival.com