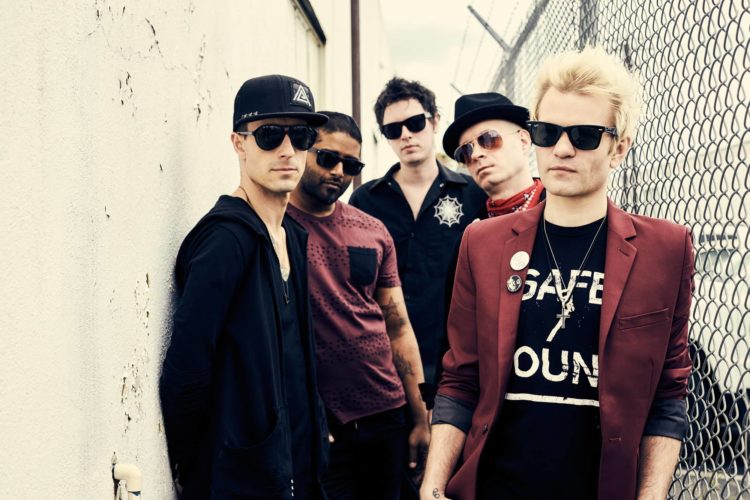 Sum 41 will headline Shamrockfest 2018 in Washington, DC.
Billed as "America's Largest St. Paddy's Day Festival, ShamrockFest is all about the bands and all about the beer. This years lineup includes headliner Sum 41, Shaggy, Less Than Jake, Reel Big Fish, Carbon Leaf, Street Dogs, Scythian, Barley Juice, Kilmaine Saints, DJ 2Nutz, Pat Premier, Rene, EPX, DJ RI5E, and Clinton Matthews.
As of today, "Main Event" individual tickets are currently $34.99, "VIP" individual tickets, which include bottomless beer from 12pm-5pm, VIP stage viewing, and more, are currently $89.99. There are also "Main Event Group" and "Main Event VIP" which are currently $29.99 and $84.99.
Here is what else you need to know…
Date: March 17, 2018 | Location: RFK Stadium Festival Grounds
Website: shamrockfest.com | Facebook: ShamrockFest | Twitter: @shamrockfest
What is the best way to get to the RFK Stadium Grounds?
Metro is the best way to get to RFK. Take the Blue/Orange line and get off at Stadium-Armory. It's a short walk (5-10 minutes) to the RFK stadium grounds.
What if I need to drive?
If you really need to drive, the festival organizers have said that cars that park in the neighborhood surrendering the stadium will be ticketed and/or towed. Parking on the grounds at RFK is $20, but spots are limited.
What items are prohibited from the festival grounds?
Ok, here we go.
Prohibited Items: outside food or beverage items, alcohol or flasks, beer funnels or beer bongs, ice or ice packs, coolers, glass containers, beach loungers or banquet chairs (soft folding chairs are allowed), illegal substances, drugs, or drug paraphernalia, illegal or unauthorized vending, knives or weapons of any kind, slingshots, animals or pets (except service animals), flammable lanterns or fire of any kind, fireworks or any types of explosives, skateboards, scooters, or personalized motor vehicles, bicycles inside the festival, umbrellas larger than 12″ in length (Umbrellas under 12″ must be compact and retractable), tents or canopies, wagons or carts of any type, strollers, sports balls, eye drops, outside cans or cups, professional cameras (indicated by a detachable lens), professional video or audio recording devices, lasers or pointers, chains, chain wallets, or spike jewelry, instruments, megaphones, horns, or noise makers, soliciting, metal aerosol containers including sunscreen, pepper spray, bug repellent, or spray paint (non-flammable are permitted), charcoal, propane or gasoline, grills or cooking devices, bags, purses or backpacks larger than 16″x16″x8″
Do I need to buy beer tickets to purchase beer?
Yes, you will need to buy beer tickets and then use them at one of the beer tents.
How long will beer be served?
Beer will be served from 12pm – 7:30pm. However, festival organizers have said that the beer service ending time may be extended, or shortened, at the discretion of DC authorities. Since there are no refunds for beer tickets, I suggest that you get your last beer(s) by 7pm. You never know what could happen. Also, gluten-free beer will be available.
What food will be available for purchase?
There will be a variety of vendors on hand selling traditional festival food and some Irish food as well.
Is this an all ages festival?
Yes, but you must be 21+ to buy a ticket for or enter the VIP area.
What is the lineup schedule?
TBD
This story will be updated as the festival organizers share more details.
Photo courtesy of Sum 41.