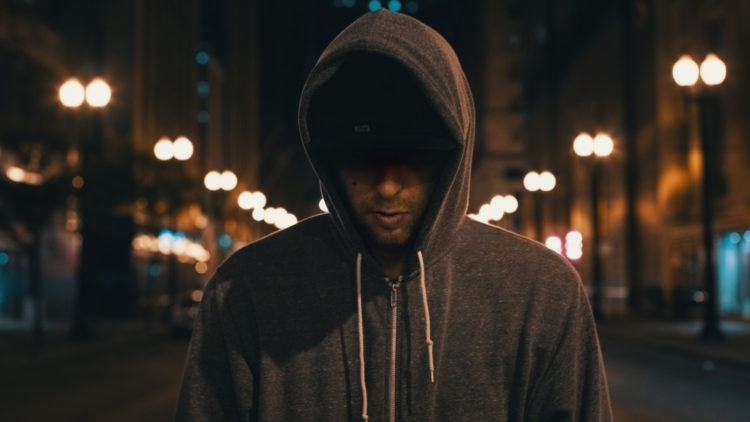 Pretty Lights will serve as one of the headliners at Moonrise Festival 2017 this weekend in Baltimore, MD. Photo Courtesy of Pretty Lights
Moonrise Festival, Baltimore's largest music festival, is taking place this weekend August 12th & 13th. The festival will take over the grounds of the Pimlico Race Course with a stellar lineup of artist including Pretty Lights, Zeds Dead, Migos, Dillstradamus, Carnage, Seven Lions, Lil Uzi Vert and many more! A total of 83 acts will perform on 4 stages over the two-day period. Hats off to team over at Moonrise Festival for putting together an amazing lineup and for shining a good light on Baltimore.
With the festival only 3 days away, here's what you need to know:
Are tickets still available?
Yes, tickets are available at all levels except for General Admission tickets for Saturday. The lowest ticket price is $119.50 (GA Advance II) and the highest ticket price is $299.50 (VIP Advance II).
What am I prohibited from bringing with me on to the festival grounds?
No Backbacks (Single compartment 12×12 drawstring bags only), No Duffle bags, No Coolers, No Outside food or beverages of any kind, No Unauthorized goods for vending, sale, or distribution, No Glass of any kind, No E-Cigarettes, Vapes, or any other E-smoking Device (unless they are disposable), No Open Disposable E-Cigarettes, No Open cigarette packages, No Laser lights or pointers, No Professional camera or video equipment, No Cameras over 35 mm, No Beverages of ANY kind (cans, bottles, glass or thermoses), No Weapons of Any Kind or Any Item That Could Be perceived as a Weapon, No Tripods, No Tents or Camping Equipment, No Balloons or Balls, No Fireworks or Sparklers, No Mace or Pepper Spray, No Grills, No Umbrellas, No Over-the-counter Medications, No Illegal Drugs, No Items That Can Be Used to Smuggle Contraband, No Wagons or Wheeled Carts, No Ladders, Scaffolding, or Other Raised Devices, No Totems That Could Potentially Smuggle In Contraband (Totems are allowed, they have to be plastic or PVC though).
What are the set times?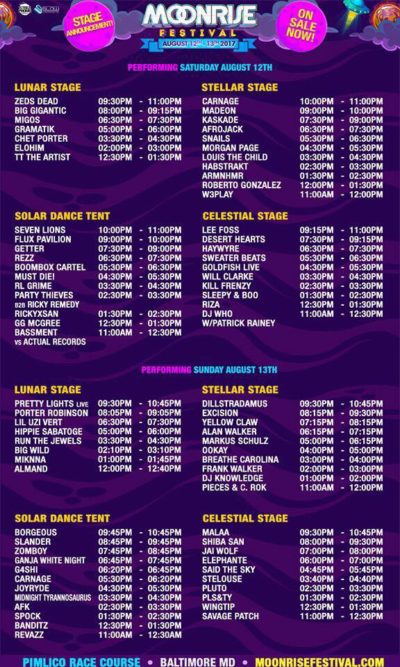 Will there be lockers that I can store my stuff in during the festival?
Yes. You can rent a locker for the festival for $35.
My tickets will be at Will Call, what are the hours?
The times that Will Call will be open are Thursday: 4-8pm, Friday 1-8 pm, Saturday & Sunday: 9am- 10 pm
When does the Shuttle service start to run and when does it end?
Shuttle service will start running 1 hour before doors open and the shuttle service will not end until everyone has been returned to their drop off location.
If I decide to drive, will I be able to pay for parking the day of the festival?
Day of show parking will be available for purchase on site.
Will water refill stations be available so I can bring my own water bottle?
Water refill station will be available and you can bring your own empty water bottle to fill up. In addition, you can bring camelbacks too. Just like water bottles, they have to be empty before bringing them into the festival.
For additional information, or clarification, be sure to visit site moonrisefestival.com. They have done a great job of providing detailed information. Also, make sure you keep an eye on the weather forecast for the weekend so you can plan accordingly. The weather forecast looks good, but there is a small chance of a thunderstorm on Sunday, but that is about it.
Lastly, be sure to follow Moonrise Festival on Facebook and Twitter. Also checkout this Reddit Moonrise Festival page to connect with other festival goers.
Have a great festival weekend!
Moonrise Festival
When: August 12-13, 2017
Location: Pimlico Course
Lineup: Zeds Dead, Pretty Lights, Dillstradamus, Borgeous, Malaa, Lee Foss, Big Gigantic, Migos, Gramatik, Chet Porterm ELQHIM, TT The Artist, Madeon, Kaskade, Afrojack, Snails, Morgan Page, Louis The Child, Habstrakt, ARMNHMR, Roberto Gonzalez, W3Play, Seven Lions, Flux Pavilion, Getter Rezz, Boombox Cartel, Must Die!, RL Grime, Party Thieves, B2B Ricky Remedy, Rickyxsan, GG McGree, Bassment, vs. Actual Records, Lee Foss, Desert Hearts, Haywyre, Sweater Beats, Goldfish Live, Will Clarke, Kill Frenzy, Sleepy & Boo, Riza, DJ Who W/Patrick Rainey, Porter Robinson, Lil Uzi Vert, Hippie Sabotoge, Run The Jewels, Big Wild, Mikna, Almand, Excision, Yellow Claw, Alan Walker, Markus Schulz, OOkay, Breathe Carolina, Frank Walker, DJ Knowledge, Pieces & C. Rok, Borgeous, Slander, Zomboy, Ganja White Night, G4shi, Carnage, Joyryde, Midnight Tyrannosaurus, AFK, Spock, Banditz, Revazz, Malaa, Shiba San, Jai Wolf, Elephante, Said The Sky, Stelouse, Pluto, PLS&TY, Wingtip, & Savage Patch
Website: moonrisefestival.com
Facebook: facebook.com/moonrisefest | Twitter: @MoonriseFest