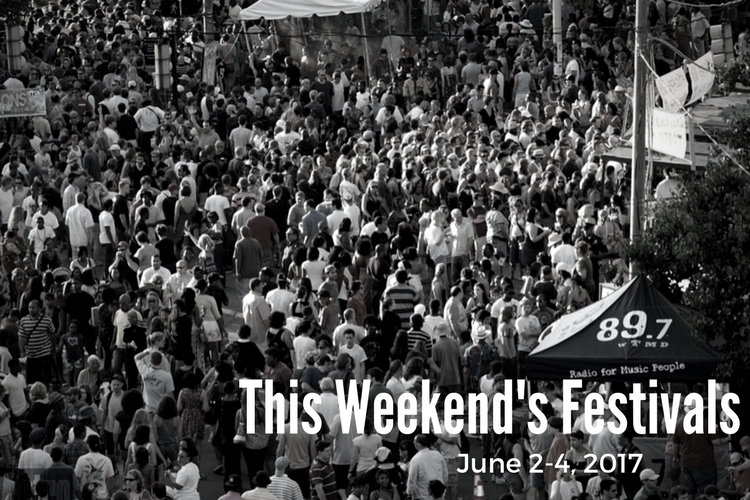 In addition to two major music festivals taking place in Maryland this weekend, here are 6 other festivals to choose from occurring in the DMV and Baltimore. From wine festivals to a block party to a couple of strawberry festivals, a little bit of everything is taking place this weekend.
Each of these festivals are locally produced, so pick a festival and have great time while supporting our local business and arts communities.
Charles Village Festival
The Charles Village Festival brings together the entire Greater Charles Village community for a two-day festival that includes a block party with live music, a garden walk tour, a 5k & 1k kids fun run. All proceeds raised from the event benefit local non-profit organizations.
Date: June 3-4, 2017
Location: Wyman Park Dell, 29th and Charles Streets, Baltimore, Maryland
Website: charlesvillagefestival.net
Washington Folk Festival
The Washington Folk Festival showcases the diversity of traditional music in the Washington area. All musicians, storytellers, dancers, and crafts people live in the the greater Washington metropolitan area and volunteer their talents to put on the festival.
Date: June 3-4, 2017
Location: Glen Echo Park, Glen Echo, MD
Website: fsgw.org
Great Grapes! Wine, Art, and Food Festival
Advertised as the Baltimore area's premier casual Maryland wine festival with HUNDREDS of wines available for tasting. Hundreds of thousands of guests have ventured to Hunt Valley, MD to enjoy the Festival and use it as a weekend getaway.
Date: June 3-4, 2017
Location: Oregon Ridge Park, Hunt Valley, MD
Website: uncorkthefun.com
Vintage Virginia Wine Festival
Nearly half of Virginia's homegrown wineries participate in this festival. In addition to providing some of Virginia's best wine to taste and purchase, the festival is also a "ALL-YOU-CARE-TO-TASTE affair" featuring local foods to taste from various restaurants and food trucks. In addition, the festival includes live music from regional bands, and kids activities.
Date: June 3-4, 2017 | Location: Bull Run Regional Park, 7700 Bull Run Drive, Centreville, VA 20121 | Tickets: $30-$59 | Website: vintagevirginia.com
Messiah Lutheran Church Strawberry Festival
Date: June 3, 2017
Location: Sykesville, MD
Website: melchurch.org
Zion United Methodist Church Annual Strawberry Festival
Date: June 3, 2017
Location: Zion United Methodist Church, 2716 Old Washington Rd, Westminster, MD
Website: carrollcountytourism.org