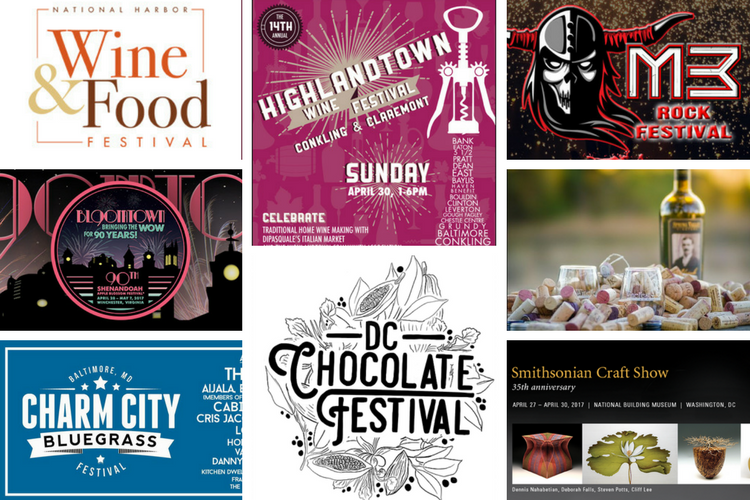 Alright, its not too late to head to a festival this weekend. If you are like me, sometimes you just want to be spontaneous and head out and have a good time. Check out the very eclectic list that I put together, pick a festival, and go.
United Bank: Bloomin' Wine Fest
The Bloomin' Wine Fest is one of forty events that are a part of the Shenandoah Apple Blossom Festival which is in its 90th year. The festival takes place in downtown Winchester's original market place. 20 Virginia wineries will offer wine tastings and wines sold by the glass or bottle and craft beers to taste and purchase by the glass. In addition, food will be offered by a variety of vendors and there will be three stages with live entertainment from regional bands.
Date: April 28-29, 2017 | Location: 2150 Gordon Shelton Blvd, Fredericksburg, VA 22401 | Tickets: $5-$35 | Website: thebloom.com
M3 Rock Festival
Date: April 28 & 29, 2017
Location: Merriweather Post Pavilion, Columbia, MD
April 28, 2017 Lineup: Kix, Loverboy, Winger, Faster Pussycat, Dangerous Toys, Baton Rouge, Station, and Lita Ford
April 29 2017 Lineup: Ratt featuring Percy, DeMartini, Croucier, Cinderell's Tom Keifer, Dokken, Warrant, Jack Russell's Great White, Xixen, Loudness, Danger Danger, Autograph, Rhino Bucket, Junkyard, Bang Tango, Vain, Mitch Malloy
Website: m3rockfest.com
Facebook: facebook.com/M3RockFest | Twitter: @M3RockFestival
DC Chocolate Festival
Date: April 29, 2017
Location: Marriot Wardman Park Hotel, Washington, DC
Website: dcchocolatefestival.com
Charm City Bluegrass Festival
Date: April 29, 2017
Location: Druid Hill Park, Baltimore, MD
Lineup: The Lone Bellow, Cabinet, Cris Jacobs, Dustbowl Revival, Lonesome River Band, Horseshoes & Hand Grenades, Valerie Smith & Libery Pike, and More TBA.
Website: charmcitybluegrass.com
Facebook: facebook.com/CharmCityBluegrass | Twitter: @CCbluegrassfest
National Harbor Wine & Food Festival
Date: April 29-30, 2017
Location: National Harbor, Oxon, Hill, MD
Website: wineandfoodnh.com
WineFest at St. Michaels
Date: April 29-30, 2017
Location: St. Michael's, Maryland
Website: winefestatstmichaels.com
The Highlandtown Wine Festival
Date: April 30, 2017
Location: Corner of Conkling and Claremont St.
Website: highlandtown.com
Smithsonian Craft Show
Works from 120 artists will be on display and on sale during the Smithsonian Craft Show. This includes all facets of contemporary design and craft– basketry, ceramics, decorative fiber, furniture, glass, jewelry, leather, metal, mixed media, paper, wearable art, and wood.
Date: April 27-30, 2017
Location: National Building Museum, 401 F Street, NW, Washington DC 20001
Website: smithsoniancraftshow.org