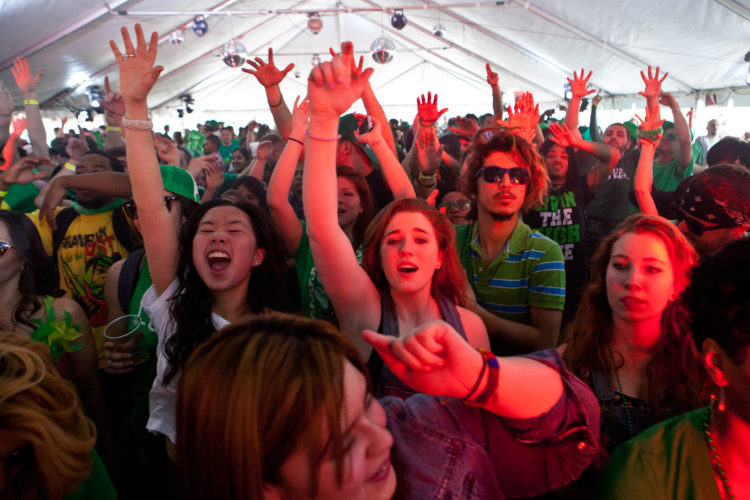 The Midtown Partyplex DJ tent at Shamrockfest on the grounds of RFK Stadium in Washington, DC on Saturday, March 22, 2014. The festival is back at its annual location for 2017. Photo Credit: Anthony Washington
With the weather being on the VERY seasonably warm side for much of February, we can only hope that some of those warm days will carry over to March here in the DMV. Especially the weekend of March 10. The DC Bluegrass Festival will kick off on March 10, indoors, at the Sheraton Tysons Hotel in Tysons Corner, VA. However, the following day, March 11, ShamrockFest will take place in the parking lot adjacent to RFK Stadium.
More details about both festivals are below. Also, click here for a complete list of all of the upcoming music festivals for 2017.
March Music Festivals
DC Bluegrass Festival
Date: March 10 & 11, 2017.
Location: Sheraton Tysons Hotel, Tysons Corner, VA
Lineup: Steep Canyon Rangers, Love Canon, Frank Solivan & Dirty Kitchen, Band of Ruhks, Flatt Lonesome, Valarie Smith & Liberty Pike, Charm City Junction and By & By
Tickets: $15.00-$350.00
Website: dcbluegrassfest.org/
Facebook: DC Bluegrass Union | Twitter: @dcbu
ShamrockFest 2017
Date: March 11, 2017
Location: RFK Stadium
Lineup: Dropkick Murphys, House of Pain, Coolio, Carbon Leaf, Street Dogs, Go Go Gadjet, The Fighting Jamesons, The Narrowbakcs, The Interrupters, Blood or whiskey, Jeff From Accounting, The Muckers, Bastard Bearded Irishmen, The Gobshites, Gaelic Mishap, DJ 2Nutz, Pat Premier, Rene, Clinton Matthews, Chris Styles, DJ Ri5e, DJ Bobby Hash, EPX, DJ Josh, DJ Big C, DJ Octane
Tickets: $29.99-$79.99
Website: shamrockfest.com
Facebook: ShamrockFest | Twitter: @shamrockfest