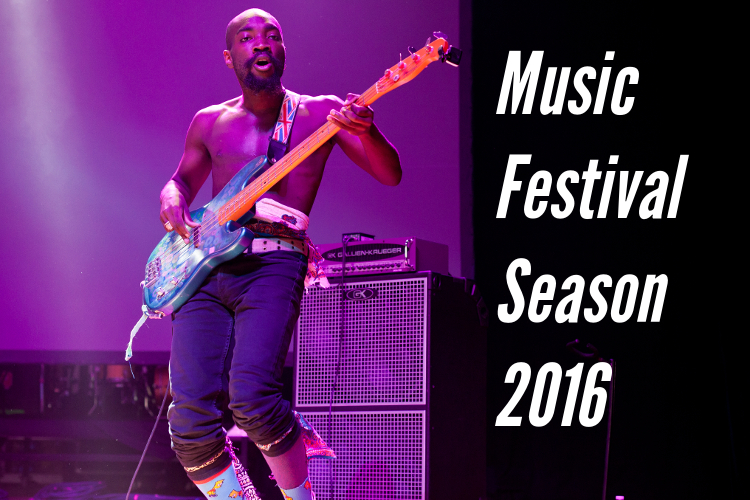 Photo By Anthony Washington
By Anthony Washington
Here it is DMV, your preview of the early announcements of dates and line-ups for Music Festival Season 2016 in DC, Maryland, and Northern Virginia.
Hat's off to Maryland Deathfest, every year they release their line-up and dates very early. It's not easy to book an entire festival line-up as fast as they do.l
ShamrockFest 2016
When: March 12, 2016
Where: RFK Stadium
Lineup: DropKick Murphy's, Flogging Murphy, Vanilla Ice, Street Dogs, Scythian, Go Go Gadjet, The Fighting Jamesons, The Rockets, Celkilt, Dublin 5, Forthewin, Fish Out of Water, Gobshites, Kilmaine Saints, DJ Nicar, DJ 2Nutz, DJ Saam, Clinton Matthews, Rene, Pat Premier, Chris Styles, DJ Flow, Sharkey, Mr. Wright, DJ NOJ and more.
Website: shamrockfest.com
Facebook: ShamrockFest | Twitter: @shamrockfest
Charm City Folk and Bluegrass Festival
When: April 30, 2016
Where: Druid Hill Park, Baltimore, MD
Lineup: TBD
Website: charmcitybluegrass.com
Facebook: facebook.com/CharmCityBluegrass | Twitter: @CCbluegrassfest
Preakness Infieldfest at Pimlico
When: May 21, 2016
Where: Pimlico Course
Lineup: Armin van Buuren, Childish Gambino, Easton Corbin, Tramped By Turtles, & A Thousand Horses.
Website: preakness.com/infield/infieldfest
Facebook: facebook.com/events/216689931829161/ | Twitter: @PreaknessStakes
Maryland Deathfest (MDF)
When: May 26-29, 2016
Where: 545 N. High Street (Edison parking lot), Baltimore Soundstage & Rams Head Live.
Lineup: The Afternoon Gentlemen (UK), Auroch (Canada), Bongripper, Bongzilla, Buzzov*en, Centinex (Sweden), Claudio Simonetti's Goblin (Italy), Craft (Sweden), Crypt Sermon, Dead Church, Dehumanized, Demonical (Sweden), Demonic Christ, Denouncement Pyre (Australia), Deranged (Sweden), Desaster (Germany), Deströyer 666, Discharge (UK), Disgorge, DOOM (UK), Dopethrone, Dragged into Sunlight (UK), Excel, Exciter, (Canada), General Surgery (Sweden), Gets Worse (UK), Grave Miasma (UK), Ground, Gruesome, Haemorrhage (Spain), Hail of Bullets (Netherlands), The Haunted (Sweden), Hellbringer (Australia), Hemdale, Hirax, Horrendous, Impaled Nazarene (Finland),, Infernal Revulsion (Japan), Infest, Internment (Sweden), Jungle Rot, Khold (Norway), Lord Belial (Sweden), Magrudergrind, Malignant Tumour (Czech Republic), Mitochondrion (Canada), Mystifier (Brazil), Negative Approach, Nocturnal Graves (Australia), Novembers Doom, Nuclear Assault, Paradise Lost (UK), Phobocosm (Canada), Priapus, Putrescence (Canada), Putrid Pile, Repulsion, Ringworm, Rotten Sound (Finland), Samael (Switzerland) – "Ceremony of Opposites" set, Sanitys Dawn (Germany), Satan (UK), Saturnalia Temple (Sweden), Secrets of the Moon (Germany), Severe Torture (Netherlands), Severed Head of State, Sick Fix, Sick of Stupidity (Netherlands), Sinister (Netherlands), Six Brew Bantha (Canada), Skullshitter, Svartidauði (Iceland), Svarttjern (Norway), Tempest, Test (Brazil), Testament, Thulcandra (Germany), Tragedy, Tulus (Norway), Venom (UK), Visceral Disgorge, Waco Jesus, Weedeater, Whoresnation, Wombbath (Sweden), World Burns to Death, Wormed (Spain), Yacøpsæ (Germany)
Website: marylanddeathfest.com
Facebook: facebook.com/MarylandDeathfest | Twitter: @mddeathfest
Capital Jazz Fest
When: June 3-5, 2016
Where: Merriweather Post Pavilion
Lineup: TBD
Website: capitaljazz.com/fest
Facebook: facebook.com/capjazzfestcruise
Firefly Music Festival
When: June 16 – June 29, 2016
Where: Dover, Delaware (ROAD TRIP!)
Lineup: TBD
Website: fireflyfestival.com
Facebook: facebook.com/FireflyMusicFestival | Twitter: @LiveAtFirefly
Artscape
When: July 15 – July 17, 2016
Where: Baltimore, MD
Lineup: TBD
Website: artscape.org
Facebook: facebook.com/Artscape.Baltimore | Twitter: @ArtscapeBmore
Floydfest 2016
When: July 27 – July 31, 2016
Where: Floyd, VA
Lineup: Bruce Hornsby & The Noisemakers, The Wood Brothers, Shakey Graves, Rich Robinson, Railroad Earth and Anders Osborne, Nahko and Medicine for the People, Elephant Revival, Pimps of Joytime, Monophonics, Otis Taylor Band, The Larry Keel Experience, Con Brio, Banditos, The Legendary Shack Shakers, Dustbowl Revival, Head for the Hills, Honey Island Swamp Band, The Congress and more to be announced.
Website: floydfest.com
Facebook: facebook.com/FloydFestVA | Twitter: @floydfest
Hot August Blues and Roots Festival
When: August 20, 2016
Where: Oregon Ridge Park, Cockeysville, MD
Lineup: TBD
Website: hotaugustmusicfestival.com
Facebook: facebook.com/HotAugustMusicFestival | Twitter: @HotAugustMusic
To see the complete list of upcoming music festivals for 2016, click here.