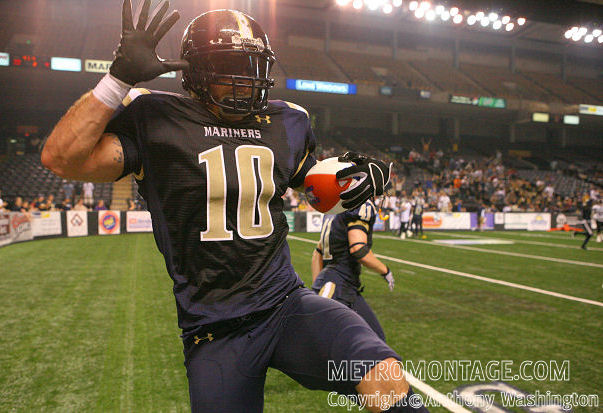 Baltimore Mariners Linebacker Adam Golobski jumps onto the sideline barrier to celebrate after scoring a touchdown during an AIFA eastern conference game against the Erie Storm at 1st Mariner Arena in Baltimore, MD on Saturday, June 5, 2010.
The touchdown Golobski scored came by way of an interception by Mariners DB/WR Jermaine Thaxton. Thaxton ran the interception back to about the 15 yard line before tossing the ball to Golobski who ran it into the end zone for the score. The Mariners defense dominated the game once again intercepting six passes and returning two of them for a touchdown.
The Baltimore Mariners won the game 51 – 34 to move to 11 – 0 for the season and clinch the AIFA Eastern Conference Championship. In addition, the Mariners secured a first round bye and will host the AIFA Eastern Conference Championship at 1st Mariner Arena on July 10th. There are still three regular season games left on the Mariners schedule; June 13th against the Erie Strom in Erie, PA, June 19th against the New Jersey Revolution at 1st Mariner Arena, and June 26th against the Reading Express at 1st Mariner Arena.
For more information about the Baltimore Mariners, visit their website.
Photo By: Anthony Washington
Copyright © 2010 * All Rights Reserved *
More Photos: