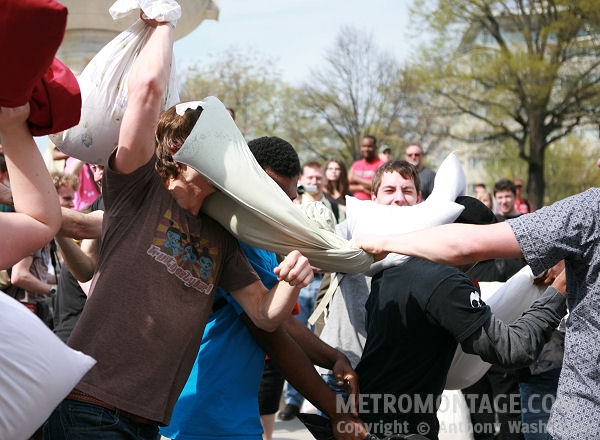 A participant takes a hit to the face during International Pillow Fight Day in Dupont Circle in Washington, DC on Saturday, April 3, 2010.
Participants in over 100 cities participated in International Pillow Fight Day. This free, all ages, and non-commercial event is organized by a loose decentralized network of urban playground event organizers around the  world. According to the organizing groups website, one of their goals is to continue to make unique happenings in public space become a significant part of popular culture, partially replacing passive, non-social, branded consumption experiences like watching television, and consciously rejecting the blight on our cities caused by the endless creep of advertising into public space.
In Washington, DC, two pillow fights took place. The first pillow fight took place on the National Mall and the the second pillow fight took place in Dupont Circle. Capital Improv organized both pillow fights in the District.
More Photos:
Get the flash player here: http://www.adobe.com/flashplayer
Photo By: Anthony Washington
Copyright © 2010 * All Rights Reserved *