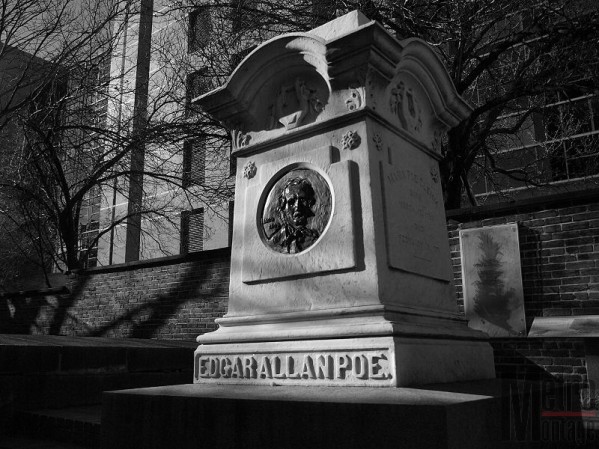 The Edgar Allan Poe Memorial Grave in Baltimore, MD on the morning of Monday, December 28, 2009. Photo By: Anthony Washington *All Rights Reserved*
Edgar Allan Poe, the legendary poet, died at the age of 40 under mysterious circumstances on the streets of Baltimore, MD in 1849. Following his death,  he was placed in an unmarked grave that became overrun by weeds and forgotten about. Eventually, a piece of sandstone with the number eighty carved into it was placed on Poe's grave site by George W. Spence, the sexton in charge of his burial.
In 1865, after a headstone that was being prepared for Poe's  grave was destroyed during a train accident , Miss Sara Sigourney Rice decided to take the lead in raising the money to provide a new monument for the grave site. By 1871 half of the money was raised, and by 1874 the rest was donated.
On November 17, 1875, the monument was dedicated.
The Edgar Allan Poe Memorial Grave can be found in the Westminster Cemetery on the corner of Fayette St. and Green St. in Baltimore, MD.
Photo By: Anthony Washington
Copyright © 2009 * All Rights Reserved *