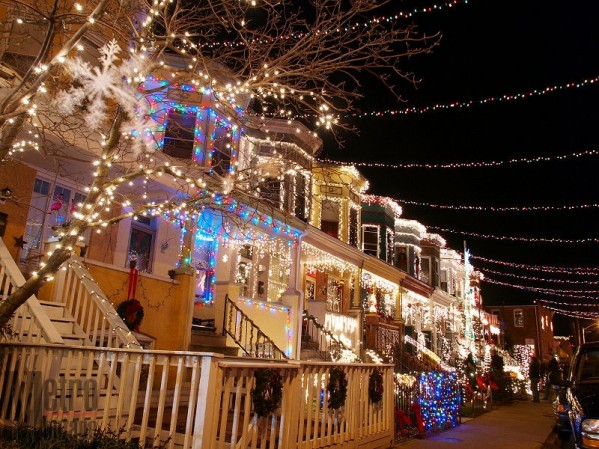 A row of houses decorated for the Christmas holiday light up 34th street in Baltimore, MD on Wednesday, December 17, 2009.
The residents of 34th street, better known as "Miracle on 34th Street" to Baltimore residents, have been welcoming visitors from around the world to their block in the Hampden section of Baltimore for sixty-two years. Neighbors on both sides of the block decorate the front of their homes from top to bottom with a variety of lights and decorations. Some residents even open their doors and welcome visitors in for cookies, hot chocolate, and cider.
This legendary Baltimore tradition was started by Bob Hosier, and has been continued with the help of his wife Darlene and their fellow neighbors. If you plan on visiting "Miracle on 34th Street", make sure you leave a message in the book that the Hosier's leave out on their porch for visitors.
The lights are on every night from 6 pm – 12 am until January 2, 2010. On Christmas and New Years Eve, the lights will remain on all night.
Photo By: Anthony Washington
Copyright © 2009 * All Rights Reserved *